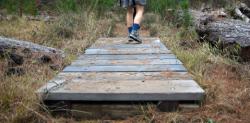 One of the best-known trails in the area, The Bearskin, starts right in the heart of downtown Minocqua. Named for the Bearskin Creek the trail follows, this 18-mile former railroad corridor is an opportunity to experience the Northwoods of Wisconsin.
The southern half of the trail follows the winding course of Bearskin Creek, a clean, cold creek that is home to Wisconsin's native trout species, the brook trout. The northern half of the ride is through a landscape of lake and forest, thick with pines and hardwoods. Along the way, you'll traverse at least a dozen old railroad trestles, remnants of a bygone age.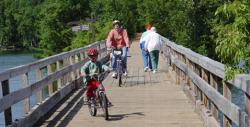 The railroad line was built to export white pine logs from the forests of northern Wisconsin to the cities of the Midwest. Today the trail is a recreation corridor, surfaced with compacted granite ideal for walking, jogging or biking.
Walk, Bike, or Hike Until Your Heart's Content
Trails
Northern Highland American Legion State Forest Trails