Prime Choice Craft Show
The Prime Choice Craft Show is a part of Minocqua's 58th  Beef-A-Rama™ celebration which brings over 10,000 people into town for the day. 
Over 100 exhibitors set up rain or shine and sell a wide variety of unique handcrafted items. The artisans and craftsmen featured at the show are selected for their handmade craftsmanship and artistic talents. You will see original artwork, pottery, jewelry, tapestries, clothing, photography, wood creations and more. Live music and food concessions on the upper level of Torpy Park and throughout downtown Minocqua make this the place to be on the last Saturday of September.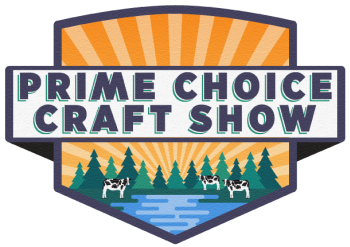 2023
September 30th
9 am- 5 pm 
Artisans and Crafters
Artisans and crafters should plan on being completely unloaded and parked by 6:00 a.m. the morning of Saturday, September 30th, as the road in front of the Park will be closed to traffic (by 7:00 a.m. until 5:00 p.m.).
You may begin setting up the day before at Noon and continue throughout the night and into the wee hours of Saturday morning; there will be a security guard on duty to check you in if you come really late or really early.
While you should be unloaded and parked by 6:00 a.m., you do not have to be fully set up until 8:00 a.m. Beginning at 8:00 a.m., there will be a panel of jury members inspecting every booth to make sure that every item was handcrafted by the vendors. The show starts at 9:00 a.m., but if you have a customer before then, please take advantage of the sale.
There will be a limited number of all-day parking spaces for crafters in the Torpy Park beach-level parking lot, so parking is first come, first served.
**If you have BIG items (furniture, sculpture, large framed work, etc.), keep in mind Hwy 51 re-opens at 5:00 p.m. 
Thank you for your patience and flexibility during this show - it's a lot to work, but there is a huge audience.
Craft Show Rules and Information
Download Wisconsin Temporary Event Form
Download a Printable Application