Let's Minocqua Partnership
Welcome to the Let's Minocqua Chamber of Commerce! Whether you are considering joining us as a new partner or renewing your current partnership, you've come to the right place! For just $1 per day, you can partner with Let's Minocqua and take advantage of one of our targeted partnership tier packages designed to fit any budget.
Your partnership with Let's Minocqua strengthens the power of our influence in business and commerce in the Arbor Vitae, Minocqua and Woodruff areas and these communities as a whole.
By partnering with Let's Minocqua and taking full advantage of the tier package you choose, we are sure you will find your partnership beneficial for your business or organization.

Partnership Program Overview
As an organization, we've been looking at all of our programs seeking ways to make things better and more efficient  so
we can bring you more value. Studying the best practices happening around the state and the country has changed how we think about memberships.
We're moving beyond the traditional "membership" structure to targeted packages called Partnership Tiers that are designed to fit just about any budget. Now you're able to better align your goals and audiences with our programs and opportunities.
The Partnership Tiers aren't based on the number of employees you have or the number of rental rooms you possess. We want you to derive more value from your investment, and the new structure we've developed in conjunction with our Board of Directors and membership input will ultimately be far more effective and impactful for all of our partners.
For as little as $1 a day, you can take advantage of the distribution channels, networking, education, advertising and other opportunities available from the Minocqua Area Chamber of Commerce as well as improving the business climate in the Minocqua area.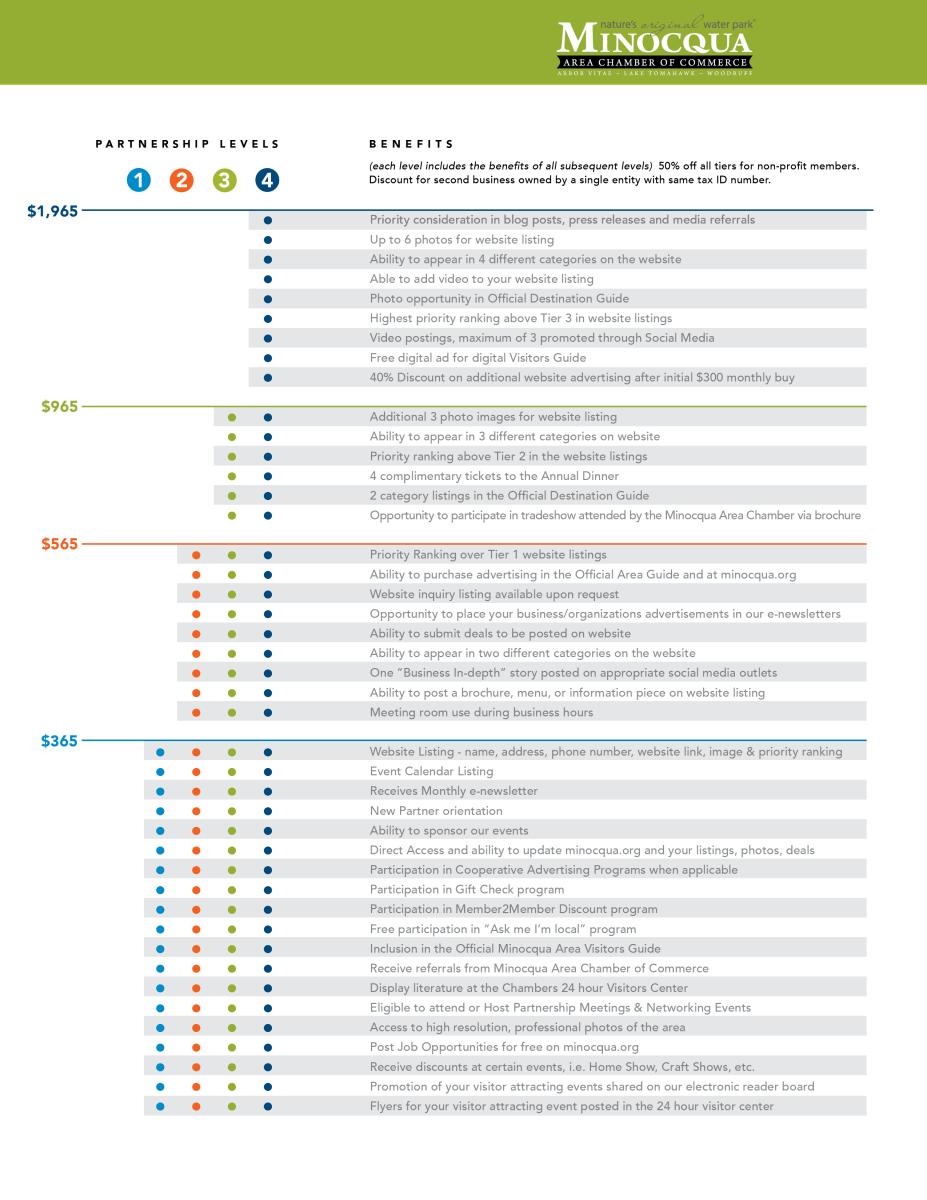 Download Full Partnership Tier Brochure
If you would like more information on chamber partnership, please contact us at 715-356-5266 or email barb@minocqua.org
Thank you for considering partnership with the Minocqua Area Chamber of Commerce
 
Interested in Partnership? 
Materials request:
Interested in Partnership with the Minocqua Area Chamber of Commerce? Request hard copies of Partnership forms by calling 715-356-5266 or email barb@minocqua.org
 
Current Partners
Manage Your Listing:
If you are a current Minocqua Area Chamber partner, you may login to your account using the Partner portal https://minocqua.extranet.simpleviewcrm.com and view and update your listing. Forgot your password? Email barb@minocqua.org      for a reset request. 
 
Valuable Opportunities of Chamber Partnership Starting at Tier Level 1
Banner Advertising with DTN
Gain enhanced visibility on the www.minocqua.org website!  The Minocqua Area Chamber of Commerce has partnered with Destination Travel Network (DTN) for an expanded online adverting program which includes new placement options throughout the website.  DTN can tailor a program specific to your business. 
Options include:
Impressions based advertising
Page-specific  Banner Ads
Run-of-Site Sponsored Header Images
Spotlight ads, with direct links to your website
There are affordable opportunities for small, medium and large businesses to have a high-profile placement on our region's #1 tourism website at a level that fits your budget and style.
Job Postings
For more information please contact the chamber office at 715-356-5266 or email macc@minocqua.org
Browse current job openings or post an opening for your business. 
Minocqua.org 
Your business listed on minocqua.org with website link
Event calendar listing-  great exposure by listing your event on our website, which receives over 100,000 page views per month