Minocqua Farmers Market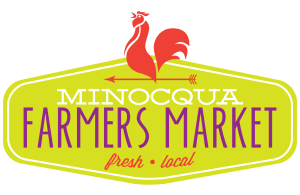 The Minocqua Farmers Market is a vibrant market where area farmers, producers, crafters, artisans, and non-profit groups come together to offer a variety of agricultural and related products directly to the public. The market connects the community with area food growers and producers, and provides education and inspiration for growing and eating healthy, for a healthier lifestyle.
Come shop the Minocqua Farmer's Market Fridays from 8 am -1 pm for all of your market favorites. 
Location: 408 E Chicago Street in Minocqua. The Farmers Market runs from Mid May to Mid October. 
All Things Wild
Homemade jams and jellies, pickled items and unique items taken from Nature.
Amikandles - Artisan/Crafter
Small, large and tapered candles with embedded flower, ferns, and leaves
Clearview Nursery Corp. Trees, shrubs & perennials from bare-root liners and small plants
Deer Creek Angus Farm LLC
Home raised, sustainably grown BQA certified, licensed, state-certified black angus beef.
Herman's Clover Valley Farm LLC
Potatoes, beets, kale, cabbage, beans, herbs, tomatoes, pumpkins, sunflowers, lettuce, onions, cucumbers, squash, gourds, black berries, rhubarb, apples, peppers
Jim's Bird Houses
Cedar birdhouses and feeders and garden benches
M & M Gardens
Vegetables, peppers, squash, gourds, vegetable plants and perennial flowers
Lee Gardens Green beans, sugar snaps, tomatoes, potatoes, onions, kohlrabi, beets, carrots, peppers and more
Mount View Sugar Bush
Maple syrup, asparagus, beets, berries, beans, kohlrabi, onion, peas, pepper, potatoes, rhubarb, squash, corn, tomato, flowers, apples, mushrooms
The New Orchard
Apples, plums, apple cider
Northwoods Maple Farm, LLC
Maple syrup, bourbon barrel-aged syrup, maple cream, maple butter, maple sugar, maple candy, maple suckers, maple cotton candy, Seasonal specialty syrup flavors, Old Fashioned in a can (no alcohol) maple soda/root beer
Northwoods Tea & Herb, LLC
Wild edibles, herbal tea, tinctures, seasoning, loose herbs "dried"
Phoua Xiong
Cut flower arrangements, flowers, canned items
Pleasant's Best Sauces
BBQ sauces, relishes, mustards, marinara sauce, spice seasoning mix & rubs
Ken and Peri's Honey Farm
Honey, honey sticks, soaps, chapstick, bees wax
Sharon Deckert - Artisan/Crafter
Hand painted items including egg shell ornaments, glassware, lawn games and decorations
Skanawan Lake Farm
Corn, tomatoes, pickling pickles, cucumbers, dill, zucchini, carrots, beets, potatoes, kohlrabi, broccoli, cauliflower, peas, cabbage, green beans, wax beans, winter squash, pumpkins, salsa, jams, pickles, pickled beets, sauerkraut, and other pickled items
The Cookie Lady
Traditional and seasonal cookies, bars, scones and bread; with a gluten-free option of cranberry bars. All homemade in a state-licensed, commercial kitchen. Something special from Wisconsin member
Utech Rainbow Farm
Blueberries from organic blueberry farm
Valentine Gardens and Greenhouse
Annuals, perennials, hanging baskets, mums and most all vegetables sold by both pound and bushel
Interested in being a vendor at the Minocqua Farmer's Market? Call 715-356-5266 or email macc@minocqua.org