Minocqua Cross-Country Skiing, Snowshoeing, & Fat Tire Biking
With such a wide variety of trail options, silent sports enthusiasts fall in love with the Minocqua area. Not only are our trail options and skill level diverse, but the are a multitude of winter activities you can try on our trails.
TRAILS
Cross-Country Skiing & Snowshoeing
Minocqua Winter Park is recognized as one of the top cross country ski areas in the Mid-West and provides a full range of services for the cross country skier including 80 km (45 miles) of Piston Bully groomed terrain with 70 km groomed for both skating and striding and 10 km groomed for striding only.  Skijoring is allowed on a 6k loop every day except Saturday.  Open daily from 9am-5pm with lighted skiing in evenings until close and on Thursdays from 6pm-8pm.  There are two separate snowshoeing trails totaling 12k, and a beautiful ice skating pond. In 2011, Snow Tubing (with tow lift up the hill) was added.  Tubing runs are only open on the weekends: Saturday 12p-5p, Sunday 12p-5p! Private tubing parties are available in the evenings by appointments.  Chalet has a cafe, day lodge and heated waxing room, Ski shop - retail, rental and P.S.I.A. certified ski school.  For rates, directions and information call 715-356-3309 or visit our website at   http://www.minocquawinterpark.org
Open daily, Winter Park also features:
-Open telemarking slopes
-A 2 km lit base loop for evening skiing
-Chalet with cafe, day lodge and heated waxing room
-Nordic Kids Youth Ski Program
-Ski shop - retail, rental and a certified ski school
-Tubing hill, with tow rope
-Ice Skating Pond
The North Lakeland Discovery Center also maintains a 20-kilometer trail system for cross-country skiing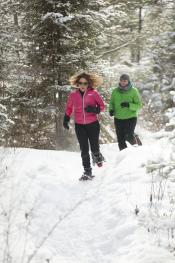 and snowshoeing. The gentle terrain winds through the woods and along the lake, a bog, and nearby Manitowish River, allowing you to explore a variety of habitats--each with unique plants and animals. The trails are groomed and tracked for classic skiing. The center also offers a full calendar of programs, including guided ski trips, snowshoe outings and interpretive hikes.
More than ten additional cross-country ski trails are available in the area, many of which are in the Northern Highland- American Legion State Forest. These trails range in length, may be groomed or ungroomed and encompass a range of difficulties.
Fat Tire Biking
Your next winter escapade is as easy as riding a bike. Literally. Biking might seem like only a summer activity but winter enthusiasts know different. Fat Tire biking is popular year round but in the Northwoods, it is especially fun in the winter. Fat Tire bikes are designed for snow but their 3.8 inch tires make them ideal for any kind of slippery or loose terrain. 
Try out this unique sport at the Chequamegon Adventure Company demos on Wednesdays or rent a bike and hit the trails yourself.  The Northwoods Zipline Trails as well as the Raven Trail are groomed for Fat Tire Biking.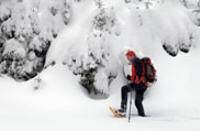 Downhill Skiing and Snowboarding
A day of downhill skiing and snowboarding are excellent day trips from the Minocqua area.  Popular skiing destinations within an hours drive of Minocqua include Camp 10 in Rhinelander, WI; Powderhorn and Blackjack in Bessemer, MI; Whitecap in Montreal, WI; Indianhead in Wakefield, MI; and Granite Peak in Wausau, WI.