Employment Opportunities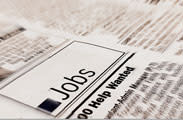 Employment Opportunities offered by Let's Minocqua Partners
Please contact business directly for details. 
SAVE MORE MARKETPLACE - 7/9/21
A LA CARTE GIFTS- DOWNTOWN MINOCQUA 6/21/21

A La Carte in the Gaslight Square, downtown Minocqua is looking for a full time year round assistant. Will need previous customer service experience and computer skills. Part time position also available.

Please contact us at (715) 904-8867 for details and application.
NORTH LAKELAND DISCOVERY CENTER 6/10/21

The North Lakeland Discovery Center is hiring for these positions. Please click on employment link for job description and details. 

Seasonal custodial and grounds

Naturalist and Residential Programs Coordinator

We are always looking for volunteers too!

https://discoverycenter.net/about-discovery-center/employment/

North Lakeland Discovery Center,14006 Discovery Lane - Manitowish Waters, WI 54545
GLIK'S 5/18/21

Glik's in Minocqua is now hiring. Part-time seasonal or year-round. Stop in at our Minocqua locations, 504 Oneida Street (main street) or call us at 715-358-6815.
ASSOCIATED BANK - MINOCQUA 5/10/21

LOOKING FOR MORE THAN JUST YOUR AVERAGE JOB?

 At Associated Bank, we're not just another bank. By forging strong connections between colleagues and our community, sharing a clear direction for future success, and providing real opportunities for growth, we're raising the bar for the financial industry while attracting the best talent.

 If you're looking for more than just a paycheck, we're looking for you. Strong Connections. Clear Direction. Real Opportunities.
INDIAN SHORES RV RESORT & CAMPGROUND 5/6/21
NORTHWOODS ZIP LINE ADVENTURE TOURS 5/4/21

Come work for one of Wisconsin's largest Adventure Tour Companies!

- Tour Guide and Office Staff Positions

- Enjoy the summer and have fun while getting paid to play in the trees.

- Full time summer positions available as well as part-time, or even weekend only, positions available.

Qualifications

- Simply be an awesome person. We'll teach you the skills you need to know.

To Apply

- Send email to info@Northwoodszipline.com AND call us 844-947-7464
TRIG'S 5/3/21

Trig's is looking to fill year-round full time/ part-time and seasonal positions. We hire team members starting at 14 years old.

Trig's Minocqua Positions:

Guest Service Representatives, Service Desk Associates, Cashiers/Baggers, Fast Lane Attendants, Popcorn/Cotton Candy Associates, Bakery Leadership, Bakery Associates, Cake Decorator Assistant, Produce Leader, Produce Associates, Floral Associates, Deli Associates, Meat Associates, Recycling Center Associates, Personal Shoppers (Trig's To Go), 3 rd Shift Stockers, Shell Station Associates, Shell Assistant Leader, Tula's Servers/Dishwashers, Cellar 70 Associate, NEW!!! Caribou Coffee Leader and Baristas.

If you are looking for a fun work environment that offers competitive benefits and can work with a flexible schedule, please contact Lauryn to discuss employment opportunities and schedule an interview today! Don't forget to ask about the Referral and Seasonal Bonus specific to the Trig's Minocqua location! Lauryn Hall Trig's Minocqua - Assistant Store Director Email: laurynhr@tasolberg.com Text/Call: 715-892-0331
OTTO'S BEER & BRAT GARDEN 4/29/21

Otto's Beer & Brat Garden in Downtown Minocqua is hiring for summer positions including Hosts, Servers, Cooks, Dishwashers and Bussers. Full and Part-Time positions available. Contact us for an interview at ottosminocqua@hotmail.com or call 715-356-6134 to schedule an interview. Applications available at 509 Oneida Street, Minocqua, WI 54548
The Waters of Minocqua 4/8/2021
BOARDWALK ICE CREAM AND FUDGE 3/29/2021

Boardwalk Ice Cream and Fudge is hiring two part time positions. 10 am to 5 pm, 3 to 4 days per week. Mid May to End Sept. Pick up an application at The Cheese Board located at 8524 Hwy 51 N in Minocqua, in the Boardwalk Shops.
THE CHEESE BOARD 3/29/2021

The Cheese Board is hiring one full time, year round position and two part time seasonal positions (May to End of December). Stop at The Cheese Board for an an application located at 8524 Hwy 51 N in Minocqua, in the Boardwalk Shops.
5 STAR MARKETING AND DISTRIBUTION 3/26/2021

5 Star Marketing & Distribution has an exciting opportunity to join our team as an administrative assistant. This is an outstanding opportunity for someone who has strong oral and written communication skills, organizational skills, keen attention to detail, and a high level of comfort with computers.

This position will be 24–30 hours per week. Our business hours are Monday–Friday, 8 a.m.–4:30 p.m., and we are offering a flexible schedule for the administrative assistant.

RESPONSIBILITIES:

Communicate with clients via email and phone to collect ad materials and coordinate the ad proofing process
Create and maintain filing systems, both electronic and physical
Proofread ads, brochures, tourism guides, and other publications
Prepare, edit, and proofread company communications, such as memos, emails, proposals, and other correspondence
Maintain client database for effective use of contact management tools

SKILLS:

Written and oral communication: Demonstrating professionalism, tact, and customer service in all communications with clients and coworkers
Typing and data entry: Preparing, editing, and updating all documents with high levels of accuracy and efficiency
Organization skills: Ability to maintain digital and physical files; create and update status reports (in Google Sheets); prioritize tasks; and adhere to multiple, competing deadlines
Proofreading: Excellent command of spelling, grammar, and number accuracy; ability to catch errors and inconsistencies in language and formatting; willingness to query errors/inconsistencies with tact; ability to mark corrections using Microsoft Word and Adobe Acrobat
Computer proficiency: Proficiency in using Microsoft Outlook and Word; Adobe Acrobat; and Google Drive, Docs, and Sheets is required; experience using Constant Contact, WordPress, and Microsoft Excel is preferred.

QUALIFICATIONS:

High school diploma or GED
2+ years of administrative experience in an office environment (preferred) or coursework in word processing and general office procedures in lieu of experience

ABOUT 5 STAR MARKETING & DISTRIBUTION:

The mission of 5 Star Marketing & Distribution is to bring northern Wisconsin and Upper Peninsula businesses the exposure they deserve. Our magazines Up North Action and Up North Home Showcase and our other print marketing products reach more than three million readers each year. Our digital product offerings to allow us to precisely target audiences and provide cost-effective brand development and customer engagement solutions to our clients.

LOCATION:

5 Star Marketing & Distribution is located in Tomahawk, Wisconsin.

HOW TO APPLY:

Please send a cover letter and résumé highlighting your related experience to info@5starupnorth.com
NORTHERN HIGHLAND AMERICAN LEGION STATE FOREST 4/12/21

Seasonal Job Opportunities

The Northern Highland American Legion State Forest has the following employment opportunities.  If you are friendly, dependable, and able to work on teams and independently we urge you to apply. 

Facility Repair Worker – Maintain property facilities focusing on campgrounds, picnic areas, and beaches. $13/hour
Facility Repair Worker – Advanced – Skilled facility maintenance and equipment operations in recreation areas.  $14.50/hour

Send cover letter, resume, and references to:joseph.fieweger@wisconsin.gov  or NHAL State Forest - Attn:  Joe Fieweger,  4125 Forest Headquarters Rd,  Boulder Junction, WI 54512