Northern Wisconsin Geocaching
The Minocqua area is the perfect place to visit for your next treasure-hunting adventure. A variety of local caches will lead you to walk through pristine woodlands, bike remote trails, canoe to quiet islands or visit historic locations that hold great stories.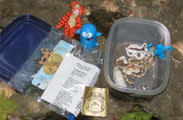 For those who are new to the sport, geocaching is a world-wide outdoor treasure hunting game, using your cell phone or a hand-held Global Positioning System (GPS) receiver to hide and seek small waterproof containers that hold logbooks and small trinkets.