Tubing in Minocqua, WI
Snow Tubing in Northern Wisconsin
Tubing is fast, easy and doesn't require any expensive equipment. Why not spend the day having fun with an exciting winter activity the entire family will enjoy.
This is not your ancestor's winter tubing, either. This is tubing in style.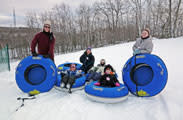 Warm up during the winter snow tubing season with one of these two awesome locations in the Northwoods:
We're super excited about year 3 of snow tubing on the Squirrel Hill!
Be sure to call the park (715-356-3309) for daily conditions or if weather may be a possible factor in the tubing hill being closed. If there's freezing rain, or if the ambient temperature is -10F or below, the tubing hill lift will be closed but guests are welcome to walk up the hill and slide down at their own pace.
Squirrel Hill Tubing Policies-
• A minimum height restriction of 42" in order to tube. The height restriction ensures that tubers are of sufficient size to quickly exit the tubes and the landing area, thereby reducing potential collisions.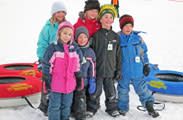 • Every individual must ride down on their own tube as there is no riding double on a single tube.  Multiple riders on the same tube may be at risk of impacting with other riders in the same tube or falling off the tube. This includes holding small children on one's lap.  However, a parent and small child can come down the hill together with the parent, on their own tube, holding the handle of the tube that their small child is riding on.  When conditions aren't too fast, we do allow and encourage tubes to chain together so up to five tubes can come down the hill together at one time. This is actually the most fun way to come down the hill.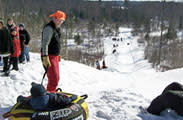 Occasionally, there may be long lines and waits in between tubing runs.  If the tow is closed for one reason or another, hiking up the hill is the only way to get up to the top (discounted tickets in this case).  Call ahead at 715-356-3309 for up-to-date information.
We look forward to seeing you all on the Squirrel Hill Tube Runs!
Video of a Tube Run down Squirrel Hill
YMCA Family Camp Nawakwa
300+ foot tubing hill
All winter weekends offer XC skiing, tubing, skating, Snowshoeing, broomball, nature exploration adventures, winter survival and more.