Bird Watching & Nature Trails In Northern Wisconsin
Minocqua Area Birds and Viewing Locations
With its abundance of protected public wild lands, the Minocqua area is a great place to see rare and endangered birds in their natural habitats. Many of these areas can be easily accessed by car or on foot. A canoe or kayak can also be useful for up-close investigations of birds and the pristine ecosystems in which they reside.
Area hiking trails are great destinations for birdwatchers who wish to meander through spectacular scenery on well-marked paths.
The following are a few of the area's most prized birdwatching locations:
Rainbow Flowage
The Rainbow Flowage is an official Wisconsin Important Bird Site. This 5,000-acre habitat is home to merlins, spruce grouse, black-backed woodpeckers, gray jays, boreal chickadees, olive-sided flycatchers, yellow-bellied flycatchers, palm warblers, Canada warblers, Northern waterthrush and evening grosbeak. Bald eagles and osprey nest around the flowage; waterfowl congregate during migration; and shorebirds congregate in the fall, when flowage drawdowns expose mudflats.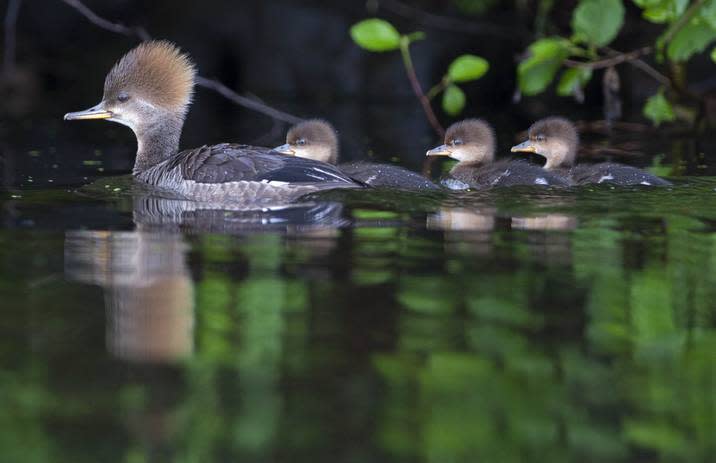 North Lakeland Discovery Center
North Lakeland Discovery Center is a featured site along the Great Wisconsin Birding and Nature Trail. Diverse populations of nesting and migrating songbirds, raptors, and waterfowl can be found along the center's 25 kilometer trail system. In addition to self-guided tours, the center offers many bird-related learning programs.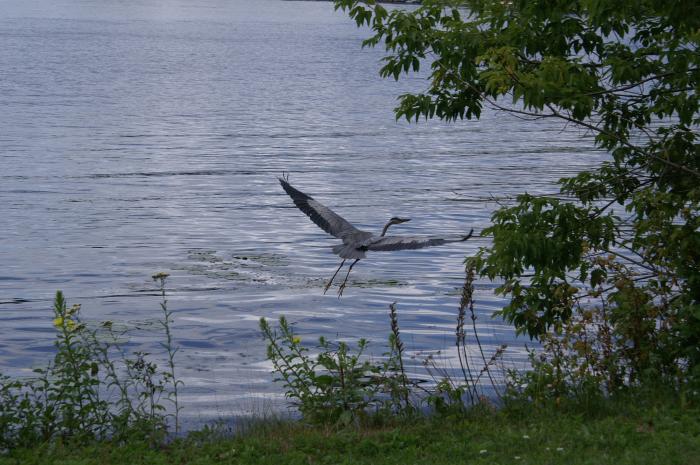 NHAL State Forest
Northern Highland - American Legion (NH-AL) State Forest's more than 220,000 acres of lakes and woodlands offer the best opportunities to see bald eagles in their nesting habitats. Birders may also spot the alder flycatcher, vesper sparrow and yellow-bellied sapsucker. Rare sightings include the gray jay, Nelson's sharp-tailed sparrow and LeConte's sparrow.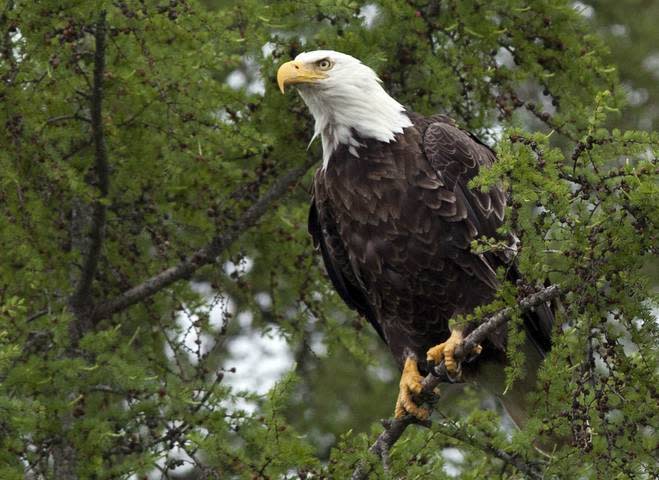 MORE POPULAR BIRD WATCHING SPOTS
1.  Almon Bog Trails at Almon Park/Buck Lake
This 80-acre county park offers woodland trails through old age mixed hardwoods, northern bog with a boardwalk, and lakeshore trail. Paved parking areas with an adjacent picnic area, restrooms and swimming beach.

Website: Almon Park Trail

Signature species: Common Loon and Pileated Woodpecker.

Rarities: Warbler and kinglet opportunities. Ringed neck snake.
2.  Bearskin State Trail
This 18-mile railbed trail offers a packed granite gravel surface for hiking/biking in the warmer weather, and snowmobiling in the winter. Excellent birding as the trail transects varied habitats – northern hardwoods, bogs, old-field, marsh and springs, and trout stream. The south end of the trail is especially productive. Numerous trestles and boardwalks provide viewing stops. Fascinating interpretive signage.

Web site: WDNR Bearskin State Trail
3.  Blockhouse Lake and Flambeau Trail and Hay Creek Wildlife Area
Upland forest, conifers, streams, wetlands and Blockhouse Lake combine to create abundant habitat for many birds and mammals. Good concentrations of waterfowl are attracted to Blockhouse Lake during migrations. Mammals include fishers, timber wolf and bobcats.

Web site: Blockhouse Lake Association | Flambeau Trail System | WDNR Hay Creek Wildlife Area

Signature species: Trumpeter Swans, Black-backed Woodpeckers, Gray Jays, Bald Eagle, Common Raven, Boreal Chickadee and Sharp-tailed Grouse.
4.  Carpenter Creek and Saxon Harbor
This quiet road is seldom used and the traveler has many opportunities to park along the roadside and walk quietly looking at the woodlands, ferns and wild flowers along the way. Many species of northern birds such as thrushes, warblers, hawks and woodpeckers are numerous and easy to spot. Deer and bears may be seen in the early morning or late afternoons as they cross the road. At Saxon Harbor, Loons and Bald Eagles are common and sunsets are spectacular.

Web site: Iron County
5.  Catherine Wolter Wilderness Area
This 2,189-acre Nature Conservancy state natural area includes 15 lakes and ponds. Common avian species include neotropical migrant songbirds Otter, fisher, black bear and timber wolves are known to frequent the preserve.

Web site: Catherine Wolter Wilderness Area

Signature species: Black-throated Green and Black-throated Blue Warblers, American Redstarts, Golden-winged Warblers, Magnolia Warblers and Mourning Warblers, Common Loons, Osprey

Rarities: Bald Eagle.
6.  Chippewa Flowage
The "Chip" is a 15,300-acre flowage with 233 miles of rugged pine and aspen shoreline cut by numerous bays, channels, and floating bogs. The waters are dotted with hundreds of forested islands. Travel by boat or canoe to fully appreciate the abundant wildlife throughout the warm months.

Web site: WDNR Chippewa Flowage
7.  Fallison Lake Nature Trail
This 2.5-mile loop trail rolls through a mixed coniferous/deciduous forest of balsam fir, hemlock, red pine, white pine, sugar maple, white birch, and large-toothed and trembling aspen. The trail crosses bogs and a hemlock glade. The longest loop of the trail goes all the way around 50-acre Fallison Lake.

Web site: Fallison Lake Nature Trail 

Signature species: Bald Eagle and Common Loon.

Rarities: Osprey.
8.  Flambeau River State Forest
Important goals guide the management of this 90,000 - acre property located along the Flambeau River. The principles of sustainable forestry are used to assure that the forest can and will continue to provide a full range of benefits to the people and visitors of Wisconsin. Northern hardwood forests of sugar and red maples, yellow birch and white ash create a beautiful color display in fall. North and south forks of the Flambeau River offer 75 miles of white water canoeing and there are numerous lakes to fish in. Northern birds are found in good numbers throughout the property along with Bald Eagles and Common Loons.

Web site: WDNR Flambeau River State Forest 
9.  Franklin and Butternut Lakes Area
A wonderful 1,000-acre site for the hiker/birder. A 13-mile loop of trail winds around a number of beautiful and remote lakes. A one-mile interpretive nature trail (brochures available on site) takes you through a 400-year-old hemlock and pine forest. A boardwalk crosses an open bog. Birds in these forest communities include: Woodpeckers, Wood Pewee, Winter Wren, Blackburnian Warbler, Cape May Warbler, and Ovenbird. Waterfowl on and near the lake include Loon, Great Blue Heron, Mallard, Spotted Sandpiper, and Willow Flycatcher.

Signature species: Bald Eagles.

Rarities: Red-shouldered Hawk.
10.  Giant White Pine Grove State Natural Area
One of the best examples of mature, northern mesic forest in northeastern Wisconsin. Located in the Forest Service's Headwaters Wilderness Area, the forest canopy of this 30-acre site contains large hemlock, sugar maple, yellow birch, and basswood. Huge white pines, some more than 3' in diameter, tower above the forest.

Web site: WDNR Giant White Pine Grove State Natural Area 

Signature species: Blackburnian and Black-throated Blue Warblers, Pileated Woodpeckers.

Rarities: Winter Wren, Evening Grosbeak, porcupine, snowshoe hare, black bear and bobcat.
11.  Hiawatha State Trail
A state-owned, crushed-stone hiking/biking trail built on a former railroad bed. The trail runs north six miles to the Lincoln/Oneida County line on the south side of Lake Nakomis. The trail is a scenic walk, offering much wildlife.

Web site: Hiawatha State Trail 
12.  Kimberly Clark State Wildlife Area
This area is managed with fire for Sharp-tailed Grouse that can be found most mornings eating gravel along the roads. Three small flowages have been constructed with associated bogs and marshes. Deer, bears and fishers are often observed along with Sandhill Cranes and a nice variety of waterfowl. Loons, Osprey and Bald Eagles also use this area.

Web site: WDNR Kimberly Clark State Wildlife Area 
13.  Lake Evely State Natural Area
This 300-acre site contains Lake Evelyn, a soft-water seepage lake surrounded by wetlands and gently rolling forested uplands of white and red pine, and aspen. The 55-acre lake has an undeveloped shoreline and wilderness character perfect for birding. It forms the headwaters of Evelyn Creek, a tributary of the Turtle River. A floating leatherleaf bog rings the lake on the north, while the southwestern portion contains a conifer swamp.

Web site: WDNR Lake Evelyn State Natural Area

Signature species: Osprey.
14.  Little Turtle Flowage
A 640-acre marshland surrounded by grassland (big bluestem prairie - quite a rarity in the Northwoods) and edged by forest.

Web site: Turtle Flambeau Flowage

Signature species: Trumpeter Swans, Bald Eagles, Osprey, and Sandhill Cranes.
15.  Lumberjack and Escanaba Trails
An 11-mile trail system around White Sand and Escanaba Lakes. Habitat types include forest, wetlands, lakes and a river.

Web site: Lumberjack and Escanaba Trails 

Signature species: Ruffed Grouse, Woodcock, and Bald Eagles.
16.  North Lakeland Discovery Center
A community-oriented educational center dedicated to exploring, preserving, and enhancing the area's natural, cultural, and historic resources. The Center is a former YCC camp with main lodge, kitchen, men's and women's dorms, eleven rustic bunkhouses, beach and sauna. It offers a year-round program of environmental education, including bird watching. The Center encompasses 66 acres including 25-acre Statehouse Lake and 20 miles of hiking trails. Common species include Semipalmated Plovers, Savannah Sparrows, Sandhill Cranes, Yellow Warblers, Dunlins, White-rumped Sandpipers, Lesser Yellowlegs, and Least Sandpipers.

Web site: North Lakeland Discovery Center 

Rarities: Osprey and Rose-breasted Grosbeaks.
17.  Northern Highland-American Legion State Forest
At 223,283 acres, the Northern Highland-American Legion State Forest is Wisconsin's largest property. It offers many campgrounds totaling 871 campsites; most offering water, showers, restrooms, swimming, fishing and a boat launch. The forest contains a diversity of northern timber types interspersed with grasslands, marshes, and more than 900 lakes. It is home to one of the largest Bald Eagle nesting concentrations in the world.

Web site: WDNR Northern Highland-American Legion State Forest 

Signature species: Alder Flycatchers, Vesper Sparrow, and Yellow-bellied Sapsucker.

Rarities: Gray Jay, Nelson's Sharp-tailed and LeConte's Sparrows, Bald Eagle, Osprey, and timber wolf.
18.  Penokee Iron Range and Gile Flowage
Iron county was named for the "red gold" iron ore that was mined in the rugged Penokee Iron Range from the 1880s until the 1960s. The most famous mine in the range was the Montreal Iron Mine – the deepest iron ore mine in the world. Montreal is a true "company town" where many of the houses mirror each other in design. Urban birds are found in these small towns. The Gile Flowage is a 3,384-acre flowage. Waterfowl, Loons and Bald Eagles can be found in the flowage where they nest, feed and rest during migration.

Web Site: Iron Country Heritage Areas 
19.  Plum Creek Forest Resources Tour
Plum Creek is the second largest private timberland owner in the Unites States with 548,000 acres in Wisconsin. This 9-mile auto trail is well marked and has a full color guidebook that is available at the site. This logging road takes you past creeks, marshes, spruce forest, aspen stands, hardwoods, and old growth pine. Boreal species like Boreal Chickadee, Gray Jay, and Yellow-bellied Flycatcher can be seen. Many species of warblers can be found here including Golden-winged, Mourning and Canada. Clear-cut areas attract flocks of warblers, thrushes and sparrows. Mammals include wolves, fishers, deer and bear.

Website: Plum Creek Forest Resources Tour

Signature species: Connecticut Warbler, nuthatches, vireos, Winter Wrens, Clay-colored Sparrow and Ruffed Grouse.
20.  Popple Creek Trail-Wilson Flowag and Riley Lake Wildlife Area
Popple Creek Trail leads wildlife watchers along a 266-acre glacial ridge to an expansive vista of Wilson Flowage where waterfowl and wetland wildlife abound. At Riley Lake you can see Sharp-tailed Grouse in courtship displays in early spring. Schedule the use of blinds to observe the birds by contacting the Forest Service.

Web site: Popple Creek Trail
21.  Powell Marsh State Wildlife Area
The marsh, developed in 1955, is a 4,303-acre wetland complex of peatland, open water lakes and flowages, northern sedge meadows, and grassy upland islands with a 1,800-acre refuge located in the middle of the property. It supports a variety of waterfowl, water birds, migrant shorebirds, open-area birds, mammals, amphibians and reptiles. Common bird species include great blue herons, songbirds, marsh hawks, eagles, sandhill cranes, Northern harriers, LeConte's sparrows, short-eared owls, Nelson's sharp tailed sparrows, sharp tailed grouse, Henslow's sparrows and black terns.

Web site: WDNR Powell Marsh State Wildlife Area

Signature species: Yellow Rail, LeConte's Sparrow, and Nelson's Sharp-tailed Sparrow.

Rarities: Yellow Rail, Short-eared Owl, Northern Harrier, American Bittern, and Merlin.
22.  Thunder Lake State Wildlife Area
2,700 acres of sedge meadow, barrens, bog lakes and tamarack forest. This area is large, wild and filled with interesting birds. Known as a hotspot for birds, one can find Hermit and Swainson's Thrushes, and Northern Saw-whet Owls. Over 20 species of Warblers nest in the area and in the winter, flocks of grosbeaks, crossbills, Common Redpolls, and Pine Siskins can be seen.

Web site: WDNR Thunder Lake State Wildlife Area

Rarities: Northern Hawk Owl, Yellow Rail, Short-eared Owl, LeConte's Sparrow.
23.  Totagatic Lake State Wildlife Area
This 2,719-acre state owned property includes the Totagatic Flowage, created by a dam on Nelson Lake. The dam is located across the highway from the parking area. At the dam, there is a wildlife viewing overlook adjacent to the highway. Birders can find Red-breasted Nuthatch, warblers, Blue-headed Grosbeak and other uncommon species here. The lake is surrounded by marsh, northern mesic and wetmesic forest including the Totagatic Highlands Hemlocks, a stand of old growth hemlock on the area's western edge. Canoe or kayak the flowage for good looks at a variety of waterfowl, eagles and herons.

Notes: The lake has excellent fishing (northern and panfish): there are boat landings on each end of the flowage.

Web site: WDNR Totagatic Lake State Wildlife Area
24.  Treehaven Environmental Learning Center
A 1,400-acre forest reserve operated by UW-Stevens Point. It is an excellent example of northern Wisconsin woodland with aspen, birch, pine, hardwood and fir. Two cold-water streams and two beaver ponds, with several old bogs and swamps, are accessible via ten miles of maintained grass trails. Treehaven's public facilities include classroom/meeting space, dining and lodging, snowshoe rental, and viewing windows for bird watchers.

Notes: No pets, trails may be closed due to special programs or events.

Web site: Treehaven Environmental Learning Center
25.  Turtle-Flambeau Flowage Scenic Waters Area
This 14,000-acre flowage offers more than 180 miles of white pine and birch shoreline, as well as hundreds of small islands. A truly wild area of forest, wetland and river.

Web site: Turtle-Flambeau Flowage 

strong>Signature species: Common Loon, Bald Eagle, Merlin, Doublecrested Cormorant, whitetail deer and beaver.

Rarities: Black Tern, Merlin (nests), timber wolves.
26.  Underwood State Wildlife Area
A 1,602-acre site with forested uplands and cedar swamp. The northern border of this property is the State of Michigan.

Web site: WDNR Underwood State Wildlife Area
27.  Willow Flowage
This area is known for attracting large concentrations of waterfowl during spring and fall migrations. Shorebirds can be seen along mud flats. Great Horned, Eastern Screech Owls, Northern Saw-whet Owls and Barred Owls are found here.

Web site: WDNR Willow Flowage Scenic Waters Area 

Signature species: Bald Eagles, Osprey, Loons, Sharp-tailed Grouse, shorebirds and owls. Great Gray owls are occasionally seen in winter.