Many of the Minocqua area trail systems accommodate mountain bikes and fat tires, sometimes sharing the track with hikers or even offering exclusive single track. For some of the best rides, start with these five trails.
BEARSKIN TRAIL
One of Wisconsin's great rails-to-trails projects, the Bearskin takes its name from the creek that runs parallel to it. Packed granite and a low grade along its 18-mile length combine to make a smooth ride that crosses 16 railroad trestles and takes riders right into downtown Minocqua. Several rest and picnic areas as well as observation points lie along the route. The southern end of the trail continues on to the Hiawatha State Trail. A state trail pass is required for cyclists.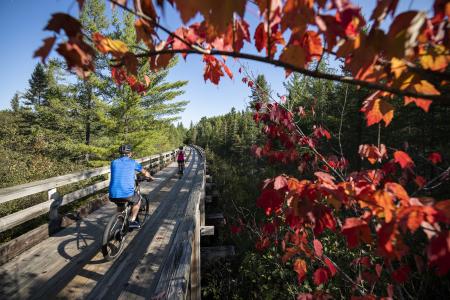 RAVEN TRAIL
For mountain bike enthusiasts, this is the first place to go. With three primary loops ranging from 1.5 to 5 miles, there is a lot of wild terrain to cover. This was once a logging area, and while much of the track is intermediate level, some of the steep back stretches rate expert. Views of Inkpot Lake and Clear Lake make it as scenic as it is challenging.
MCNAUGHTON TRAIL
The gentle hills of this ski-trail system make for some good beginner-level rides. Follow the red trail south and follow the circle around McNaughton Lake. The surface is grassy and packed dirt. Other interconnected loops find two more lakes in the woods on the way back to the parking lot.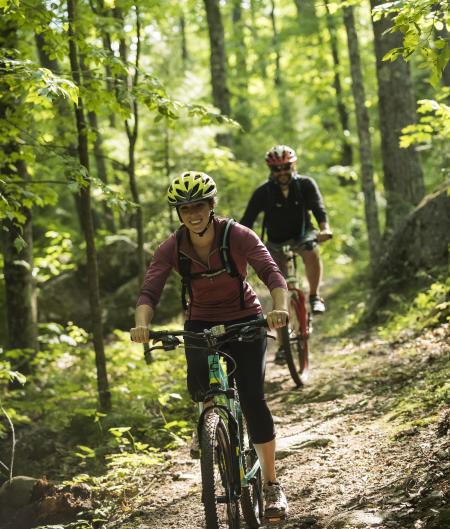 MADELINE TRAIL
A handful of ponds and three lakes await in the hardwood forest, where four designated trails offer intermediate rides with a few steep runs. The longest circuit is 5.5 miles, but there are shorter options and combinations.
LAMBO MOUNTAIN BIKE TRAIL
Located on the grounds of Northwoods Zip Line just south of Minocqua on Highway 51, there is a 3.5-mile bike trail that winds through the woods. It's a great place year-round, but especially in the winter when trails are groomed for fat-tire biking. Park in the lot for Northwoods Zip Line and follow the signage to the trailhead.