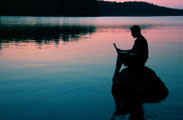 Our meeting and convention facilities offer the same professionalism and service that you will find in the larger cities but in a uniquely beautiful and natural setting. Our outstanding accommodations, variety of activities, special events, and spectacular venues will put your up north meeting in a class of its own.

If you are looking for a secluded company retreat with little distraction and plenty of time to think, we've got that. Go unplugged, meet around a roaring campfire or get inspired on a group hike.

If you need a meeting to bring people together with team-building activities and high-energy sports, we've got that. Go fishing, cross-country skiing, biking or snowmobiling.

If a variety of activities for spouses and guests is what your group is looking for, this is definitely the place. They will enjoy unique shops, museums, salons and spas, dinner theater and golf outings.

Whether you're planning a convention for 350 or a brainstorming retreat for a handful of executives, we have the perfect year-round location. The possibilities are endless.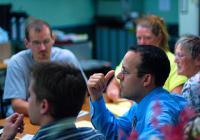 From secluded company retreats to lively team-building meetings, large conventions to educational conferences, the Minocqua Area has our welcome mat out for group meetings and travel. We will go the extra mile to make sure your attendees are patting you on the back for choosing such an outstanding destination.
The Minocqua Area has outstanding accommodations and services you would expect in larger cities but in a truly unique and beautiful setting. If you are looking for a meeting or retreat that is beyond the ordinary, this is the destination you've been looking for. As outstanding as our hotels and resorts are, we know that you aren't going to choose Northern Wisconsin for your next meeting so that your attendees can sit inside four walls. With our jaw-dropping scenery and unbeatable recreational offerings, your attendees have the option to relax and unwind or engage in lively team-building activities.
As you browse our website you will find a host of area businesses that will cater to your group's needs. Take some time to get a sense of the abundant amenities, attractions, activities, and experiences you'll enjoy in the Minocqua area.
Astounding Natural Beauty 
The landscape of the lake country of Minocqua Area comes alive in all four seasons. With 3200 lakes and more than two hundred thousand acres of pristine forest land in the two-county area, the perfect place to watch a sunrise or gape at a sky full of stars is never far away. And if you're lucky, the night that you spend in the Northwoods may be a night that the Northern Lights paint the night sky. 

Fall Colors 
Oh, the indescribable splendor of fall in the Minocqua Area! The beauty of nature's palette is only magnified by the reflection of the trees in the cool, unspoiled lakes of the Northwoods. Our colorful landscape easily rivals New England but has the added bonus of being far less crowded — for a truly enjoyable tour. 

Culture 
The inspirational beauty of the Northwoods inspires artists of many kinds. A fabulous new performing arts center draws performers from around the world for special engagements. Renowned artists lead workshops and give demonstrations of their craft on the shores of White Sand Lake. Actors perform a variety of shows at a playhouse tucked away in the forest. Juried craft shows draw artists and crafters from around the region to display and sell their wares. 

History 
When experiencing the Minocqua Area, one can't help but think about its beginnings. Just imagine what life would have been like in the 1880s when lumberjacks were quite literally carving out the Northwoods. What a wild and rugged place it must have been, and what wild and rugged people! Visit our charming museums to step back in time and meet these early settlers. The nearby Lac du Flambeau area abounds with Native American culture and experiences. Visit a museum with unique artifacts, beautiful Native American beadwork, and one of the only 24-foot carved dugout canoes left in Wisconsin. 

Recreation and Outdoor Activities 
For the adventurous traveler, the Minocqua Area is paradise. Hiking, biking, canoeing, kayaking, snowmobiling, cross-country skiing, snowshoeing, golf it's all here. And the best part is, the equipment can be rented from area outfitters. Guided nature hikes and bird watching excursions can be arranged with local naturalists. Beginning kayakers can be lead on a tour of historic boathouses on the Minocqua Chain of lakes. 

Attractions 
Spend a couple hours exploring and getting up close and personal at a unique interactive zoo with more than 500 animals, marvel at the skills of real lumberjacks at a local lumberjack show, take a factory tour and receive free samples at a vitamin factory, visit a wildlife rehabilitation and education center where between 700-1000 animal "patients" are seen each year. Zip-lining, water ski shows, snowshoe baseball and the list of interesting attractions goes on... 
Unique Shopping 
If free time for shopping is what your group desires, one afternoon in downtown Minocqua may not be enough. With unique shops featuring clothing, gifts, antiques, specialty foods, and home décor, there are so many treasures to be found. 

Dining 
Not just dining, a dining experience! The Minocqua Area has restaurants to please every palette. But the restaurants offer more than just food. Here are just some of the additional features of a few of our area establishments: breathtaking water views, golf course settings, great history, long-time family-owned establishments with owners eager to share their stories, full-log restaurants with special Northwoods character, old world atmosphere with gorgeous wood paneling and detailed carvings, and so much more! Definitely more than a meal.
Festivals & Events 
Throughout the year festivals and events are held that bring people back year after year and draw in new visitors. In February we have the Loop around the Lake candlelight cross country ski or snowshoe track around beautiful Lake Minocqua. In April we celebrate the coming of Spring with  Only Fools Run at Midnight 5k Run/Walk through the streets and trails of Minocqua. The third weekend in June, enjoy our newest event: Paws in the Park!  June also brings the annual Minocqua Antique & Classic Wooden Boat Show, featuring a boat parade, live music, and concessions. And of course our fabulous July 4th celebration parade and fireworks display over the shores of Lake Minocqua. The end of September means Beef-A-Rama, a festival of beef. This quirky event features cook-offs, crazy costumes, an arts & crafts show, live music, and so much more. You have to see it to believe it! In October we celebrate fall with fabulous color foliage tour routes. Throughout the spring, summer, and fall, juried craft fairs draw artisans from around the region. Live music and concessions add to the enjoyment of each fair.

The People 
The people of the Northwoods are rolling out the red carpet for groups. Our streets are safe and our people are friendly. We're living a lifestyle we love in one of the most beautiful places on earth, and we would love to share a little slice of our heaven with you. 

The Service 
You will not only receive old-fashioned hospitality from our local businesses, but we are at your service to assist you in planning a unique tour of the Northwoods that will leave a favorable impression on your meeting attendees. Don't wait; for a truly memorable trip to a new, exciting and beautiful destination, contact us today... jane@minocqua.org