There's nothing more invigorating and mind-cleansing than a good walk in the woods, and the Northwoods has an extensive system of maintained trails just for that purpose. Here are six great options.
MCNAUGHTON LAKE TRAIL
This series of trail loops, a popular beginner's level ski trail in winter, makes its way along old logging roads, offering grassy and packed-dirt surfaces over gently rolling hills. Trails are color-coded for length, the 5.5-mile red Skater's Trail being the longest, while the yellow trail around Hawk Lake is only a mile. Combine the blue and the red trails for a nearly 9-mile hike with views to two more scenic bodies of water, McNaughton and Helen lakes. 
NORTH TROUT LAKE TRAIL
Looking for a short round through the forest? Maybe something for small children? This 1-mile loop wanders through a bog populated by tamaracks and black spruce trees. Take a turn along the shores of beautiful Trout Lake, and enjoy the colorful wildflowers in spring and even wild blueberries and strawberries in summer.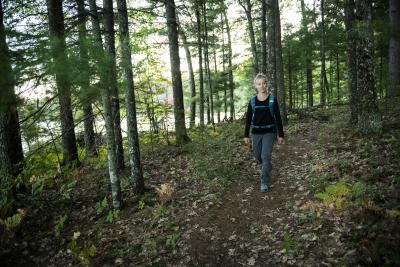 MADELINE LAKE TRAIL
Situated just north of Madeline Lake, and offering views of it and two other lakes, this is another ski-trail system that allows foot traffic when the colors of spring, summer and fall are in session. Loop lengths range from 3 to 5.5 miles and the old grass and dirt logging roads offer a bit more challenge than those at McNaughton Lake, with a couple of steep stretches. Leashed dogs are welcome.
FALLISON LAKE TRAIL
Nature trails tend to be shorter and easy, but with its longest loop of 2.5 miles, this trail is longer and more strenuous. The path rounds a bog and then runs around the long and narrow lake through a mix of pine forest and hardwoods such as maple and aspen (great when the fall colors arrive). Another bog area lies to the southeast. The lake area offers active wildlife, from beavers making dams to loons and eagles fishing the waters. No pets allowed.
RAVEN TRAIL
This popular network shows 13.5 miles of mildly strenuous trekking through some former logging areas with scenic views of two lakes. However, the shorter Nature Loop is for hikers only and provides a lesson in ecology.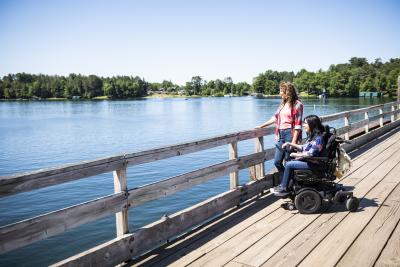 BEARSKIN TRAIL
The most popular trail in the Minocqua area is the Bearskin State Trail. The trailhead is located in downtown Minocqua and follows Bearskin Creek. The packed granite trail travels south over a number of trestle bridges before connecting with the Hiawatha Trail, which winds up in Tomahawk. Total trail length when combined with the Hiawatha is 25 miles.