Snowmobile Trail Report by Cross Country Cruisers 2/21/19
We received around four or five more inches of snow yesterday here in Cruiser Country.
The trails are awesome and the scenery along the trail is breathtaking. If you're not out enjoying this great time of the year you really are missing some of Mother Nature's beauty, so get out and ride!
Trails 3,5,6,10,11,17,47,51 and the Bear Skin are very good to excellent, trail 70/10 in town is good to very good.
The snow banks at some road intersections are getting quite high so use some extra caution when crossing roads. Also on some of the area lakes the ice fisherman are removing there ice shacks, please watch out for ruts than can cause you to lose control of your snowmobile, stay close to the markers.
It should be another great weekend of riding with more snow in the forecast for Sunday.
Please stay to your right, obey the trail signs and respect other riders!
Ride Right Ride Safe!!
Steve Wolfe
************************************************************************************************
Snowmobile Trail Report by Minocqua Forest Riders Snowmobile Club 2/21/19
Curt Christensen, President
We've certainly been blessed with ideal snowmobiling conditions this past week. More than enough snow and favorable temperatures, staying below the freezing mark, have made for a great snowmobiling experience on our trails. It did take a day or two to get the new snow under control from the last snowstorm. But, once it got worked into the base, our trails are reported to be in Very Good to Excellent Condition.
Pier/Willow Region Trails: Trail #5, #8 & #12 are reported to be in Very Good to Excellent Condition.
Trail I (Iron Gate Road) is not being groomed, by request of the Forestry Department, due to logging activity.
Trail Concerns: Nothing has been reported by our groomer operators at this time.
Lakes Tomahawk & Katherine: There's a new land bypass that's been built to avoid going through the troublesome tunnel of past years. Follow the new lake markers and signage.
Weekend Weather Forecast (as reported by weather.com): Friday morning you can expect partly cloudy skies in the morning, giving way to cloudy skies in the afternoon. The high temperature will be 35 degrees with a 4 mph breeze out to the South. The evening low temperature is expected to drop to 22 degrees, with a chance of 1 inch of accumulating snow. The winds will be light and variable. The high temperature Saturday will be 36 degrees with an East wind of 5 mph. There will be snow developing during the late afternoon hours. A 100% chance of snow is expected overnight, with accumulation totals of 5 to 8 inches. A Northeast wind, gusting up to 20 mph will prevail, with a low temperature of 24 degrees. Snow will continue to fall into Sunday morning with 1 inch of additional new snow. The high temperature will be 26 degrees with Northwest winds gusting from 15 to 25 mph. Snow showers are expected to diminish during the evening hours with the low temperature falling to a -1 degree, with a strong Northwesterly wind of 13 mph.
Upcoming Club Event: Saturday, February 23rd: Raffle Drawing Party at Rustic Pines
Tuesday, March 20th: Membership Meeting at Bitters & Bull
Tuesday, May 7th: Membership Appreciation Dinner (by invitation only) Quality Snowmobile Trails in Wisconsin's North

AREA SNOWMOBILE CLUBS
Cross Country Cruisers Snowmobile Club
P.O. Box 733 
Woodruff, WI 54568 
www.snowmobilewi.com
Maintaining 135 miles of scenic and well-groomed trails throughout the Arbor Vitae, Woodruff and Minocqua area.
Minocqua Forest Riders Snowmobile Club
P.O. Box 1161 
Minocqua, WI 54548
Come ride away from the crowds on 190 miles of Bombardier-groomed trails, extending to the Willow Flowage and Price County. Food and gas are available throughout the trail system.
www.minocquaforestriders.org
New Tom Sno-Fleas Snowmobile Club 
P.O. Box 45
Lake Tomahawk, WI 54539
Maintaining extensive snowmobile trails south of Minocqua. Lake Tomahawk is the center for going north, south, east or west. We are known for keeping our trails in great condition.
www.new-tomsnofleas.com
Northern Hornshoe Trails Snowmobile Club                                                                                                                                                                                      P.O.Box 968                                                                                                                                                                                                                                              Lac du Flambeau, WI                                                                                                                                                                                                        www.hornshoe.org
Providing excellent snowmobile trails for all to enjoy in the Lac du Flambeau area. 
Area Snowmobile Museum
Snowmobile Hall of Fame
P.O. Box 720
8481 Hwy 70 W at Sled World Blvd
St. Germain, WI 54558
715-542-4488
715-542-4477 Fax
www.snowmobilehalloffame.com
Wisconsin Snowmobile Registration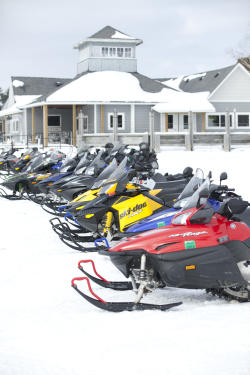 Wisconsin law requires those who use Wisconsin snowmobile trails to display either Wisconsin registration or a snowmobile trail pass. Funds from this program will be designated for use as trail aids and related costs to enhance all Wisconsin snowmobile recreation.
The trail pass may be purchased over the counter at many authorized sales locations. The $35.00 non-resident snowmobile trail use pass is valid from July 1st through June 30th.
A snowmobile trail pass is required to operate a snowmobile not currently registered in Wisconsin on a snowmobile trail.
The snowmobile must be currently registered with another jurisdiction.
The trail pass must be permanently affixed by its own adhesive to the bottom center portion of the snowmobile windshield. If there is no windshield, the sticker shall be displayed in a highly visible location on the front of the cowling of the snowmobile.
Once affixed, the sticker may not be removed or transferred to another snowmobile.
Snowmobile Safety Certificate
A snowmobile safety certificate is required for all snowmobile operators born after January 1, 1985.  A certificate is required in order to operate a snowmobile on public trails, lands, and frozen waters.  A valid driver's license does not exempt you from the safety certificate requirement.  It must be carried while riding and it must be displayed to a law enforcement officer when requested. 

For information on how to obtain a snowmobile safety certificate today, click here
For more information on snowmobile laws and regulations, click here