Snowmobile Trail Report
12/12/18 Trail Update:
NEWS RELEASE / PUBLIC SERVICE ANNOUNCEMENT
DATE: 12 December 2018
TO: News Media and Other Parties of Interest
FROM: Dale Mayo, Vilas County Parks & Recreation Administrator
RE: Vilas County Snowmobile Trails Remain CLOSED
THE VILAS COUNTY SNOWMOBILE TRAIL SYSTEM OFFICIALLY REMAINS
CLOSED. ADDITIONAL SNOW AND COLD TEMPERATURES ARE REQUIRED TO
ENHANCE THE SAFETY AND CONDITION Of THE TRAILS.
The volunteers in the eleven snowmobile clubs in the Vilas County
Snowmobile Alliance (VCSA) have worked hard to get trails brushed and
signed in a timely manner. All funded trails have been inspected by the
County. It is the consensus of the VCSA, not to open for this weekend, rather
wait until next Wednesday's 19 December VCSA meeting to reevaluate the
conditions. Another announcement will be forthcoming at that time.  
Area Snowmobile Clubs
Cross Country Cruisers Snowmobile Club
P.O. Box 733 
Woodruff, WI 54568 
www.snowmobilewi.com
Maintaining 135 miles of scenic and well-groomed trails throughout the Arbor Vitae, Woodruff and Minocqua area. Memberships are $30 for families.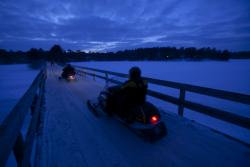 Minocqua Forest Riders Snowmobile Club
P.O. Box 1161 
Minocqua, WI 54548
Come ride away from the crowds on 190 miles of Bombardier-groomed trails, extending to the Willow Flowage and Price County. Food and gas are available throughout the trail system.
www.minocquaforestriders.org
New Tom Sno-Fleas Snowmobile Club 
P.O. Box 45
Lake Tomahawk, WI 54539
Maintaining extensive snowmobile trails south of Minocqua. Lake Tomahawk is the center for going north, south, east or west. We are known for keeping our trails in great condition.
www.new-tomsnofleas.com
Area Snowmobile Museum
Snowmobile Hall of Fame
P.O. Box 720
8481 Hwy 70 W at Sled World Blvd
St. Germain, WI 54558
715-542-4488
715-542-4477 Fax
www.snowmobilehalloffame.com
Wisconsin Snowmobile Registration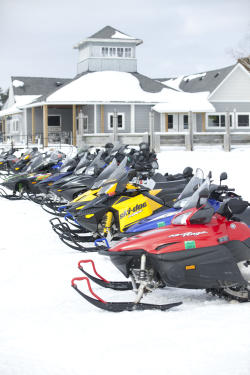 Wisconsin law requires those who use Wisconsin snowmobile trails to display either Wisconsin registration or a snowmobile trail pass. Funds from this program will be designated for use as trail aids and related costs to enhance all Wisconsin snowmobile recreation.
The trail pass may be purchased over the counter at many authorized sales locations. The $35.00 non-resident snowmobile trail use pass is valid from July 1st through June 30th.
A snowmobile trail pass is required to operate a snowmobile not currently registered in Wisconsin on a snowmobile trail.
The snowmobile must be currently registered with another jurisdiction.
The trail pass must be permanently affixed by its own adhesive to the bottom center portion of the snowmobile windshield. If there is no windshield, the sticker shall be displayed in a highly visible location on the front of the cowling of the snowmobile.
Once affixed, the sticker may not be removed or transferred to another snowmobile.
Snowmobile Safety Certificate
A snowmobile safety certificate is required for all snowmobile operators born after January 1, 1985.  A certificate is required in order to operate a snowmobile on public trails, lands, and frozen waters.  A valid driver's license does not exempt you from the safety certificate requirement.  It must be carried while riding and it must be displayed to a law enforcement officer when requested. 

For information on how to obtain a snowmobile safety certificate today, click here
For more information on snowmobile laws and regulations, click here