Snowmobiling in Northern Wisconsin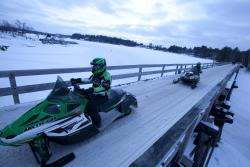 Thanks to the hard work of our area snowmobile clubs and volunteers, an extensive network of professionally groomed trails — more than 1700 miles — are maintained in the Minocqua area. These trails traverse a magnificent natural environment that includes 1,300 glacial lakes and 233,000 acres of public forest land. This, combined with our 65-inch annual average snowfall, makes for some of the Midwest's best sledding.
Take off in any direction to sled on spacious and well-marked routes across forests and frozen lakes. The locale features a number of trail side pit stops, as well. Step inside and enjoy the atmosphere, but please be responsible. Don't drink and drive.
Area trail maps are available at the Visitors Center or can be mailed to you upon your request.