What is Beef-A-Rama™?
Executive Director Krystal Westfahl shares what makes our one-of-a- kind festival so popular!
Schedule of Events
(Event times are approximate and subject to change)
Stay tuned for the official 2019 schedule of events
Volunteer
Interested in being part of the Moo Crew?
Please contact us for volunteer opportunities available.
Contact: The Minocqua Area Chamber of Commerce
Email - macc@minocqua.org
Phone - 715-356-5266

2019 Roasters
For 55 years Minocqua has partied until the cows came home! From the humble beginnings of Fishorama to the festival it is today, the tradition of cooking food on the street has been a staple through it all. Join us on Saturday, September 28th to see this time-honored tradition continue.  
Judges
 2019 Judges who will be tasting and judging the roasts being cooked on the streets. 
Cow Pie Plop
Contact Roben Haggart at the Minocqua Town Offices at 715-356-5296 for your Deed purchase.  Stop by the Town Offices for free Beef-a-rama tattoos for kids! Click here to view the Cow Pie Plop Deed!
Beef Eating Contest
Presented by Associated Bank
Sign up for the Beef Eating Contest!
Adult Participants should represent a local business to play for a chance to win $250 to a Charity of their choice.
To sign up contact Nicole Kilen at Associated Bank
Nicole.kilen@associatedbank.com OR  (715)356-9556
Kids Contest (ages 10 and under):  Sign up between 8-10:30 am by Associated Bank booth in front of the Pavilion on Saturday!
Maps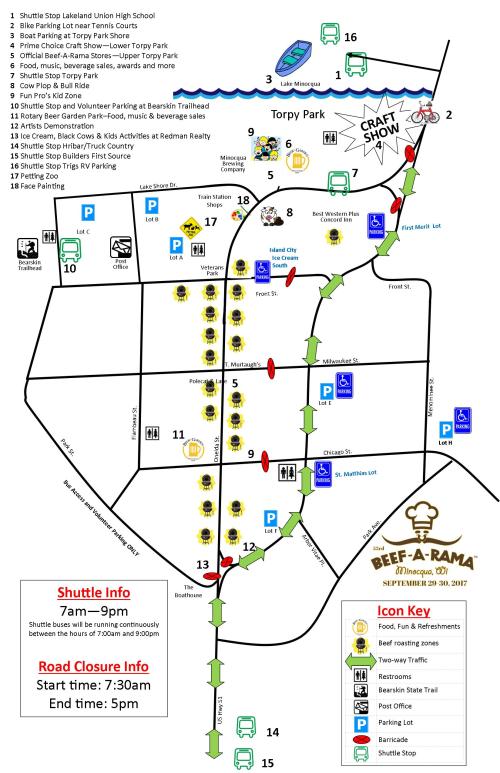 Shuttle Stops
Prime Choice Craft Show
The Prime Choice Craft Show is a part of Minocqua's 54th Annual Beef-A-Rama™ celebration which brings over 10,000 people into town for the day. 
Close to 75 exhibitors setup rain or shine and sell a wide variety of unique handcrafted items. The artisans and craftsmen featured at the show are selected for their handmade craftsmanship and artistic talents. You will see original artwork, pottery, jewelry, tapestries, clothing, photography, wood creations and more. Live music and food concessions on the upper level of Torpy Park and throughout downtown Minocqua make this the place to be on the last weekend of September.
Click here to view more details about the Prime Choice Craft Show.
Rump Roast Run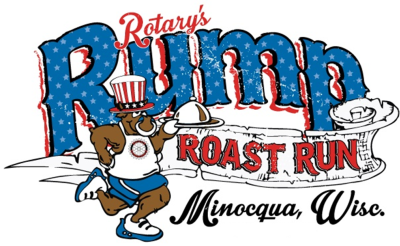 Beef-A-Rama™ History
Fish and roast beef shared the spotlight last Saturday when the Minocqua Merchants Association presented their first Fishorama on the opening day of fishing season." Lakeland Times May 14, 1964 - Check out the Chamber scrapbook of Beef-A-Rama™ memories!
2017 Awards

And the winners of the Beef-A-Rama™ Roasting Competition are....(drum roll please...)
Rare Division:
#1 Lambo (Lakeland Area Mountain Biking Organization)
#2 US Bank
#3 Guardians of the Children
Seasoned Division:
#1 Tula's
#2 Presque Isle Snow Bunnies
#3 Hazelhurst Pub (FOUR Way tie...coin toss!!)
Well Done Division:
#1 No Sweat Clothing
#2 People's State Bank
#3 Otto's
Best Dressed Stall(Peoples Choice)
Presque Isle Snowmobile Club
Best Snack Giveaway (Peoples Choice):
Aquatic Plant Management