Why would anyone come to an island at the end of September dressed up like a cow? It could be the aroma of beef in the streets from chefs cooking for the beef roasting competition. It could be to run the Rump Roast Run, where winners score a beef roast. It could be the anticipation of waiting for a steer to drop a cow pie on your deeded space in the Cow Pie Plop. It could be cheering on the contestants in the Beef Eating Contest. It could be the live bands throughout the town. It could be the more than 80 artisan craft vendors at the Prime Choice Craft Show. It could be any one of the mouth-watering three official beef sandwiches. Or it could simply be because Minocqua breeds fun.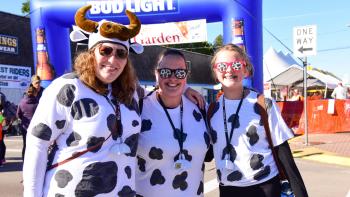 While Beef-A-Rama™ today is all about the beef, its origins are actually all about fish. Fish-O-Rama was held the opening weekend of fishing season and anglers would bring their prized catch into town to be weighed. The Minocqua Merchants Association roasted beef in front of their stores and served them beef sandwiches. The event was so successful the merchants began roasting beef again at the end of the summer as a way to say Thank you to the area's visitors. Fish-O-Rama fell away but the beef has stood the test of time.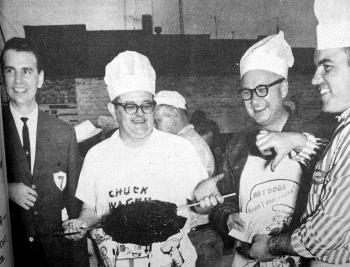 Beef-A-Rama has become the unofficial final party of the summer. The quirky festival clearly has grown in popularity from the 400 lbs of beef served by the Minocqua Merchant Association and Greater Minocqua Chamber of Commerce in 1964 to the roughly 3000 lbs of beef served to festival-goers today by the Lakeland Area Rotary, Cross Country Cruisers and the Minocqua Lions Club. 
The crown jewel of the festival has always been the beef roasting competition. Their costumes might be silly, but chefs in the beef roasting competition mean serious business. In 1972, 8 year old (yes. 8.) Pat Schilling basted his prize-winning beef every seven minutes in his mom's barbeque sauce. Longtime chef Harold Helterhoff would bribe the judges with his wife's cookies. Today, chefs often start prepping at the crack of dawn.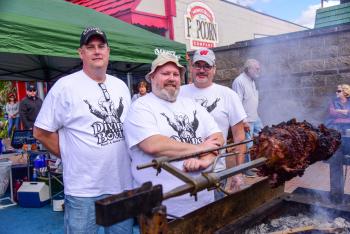 While the 25 cent price tag for a sandwich has obviously increased over the last 50 years, the one thing you can count on is if it's the last Saturday in September, Minocqua is the place to be-ef.
Read more about this year's event schedule and activities at beefarama.com