September 25th, 2021
On the last Saturday in September, the smell of beef fills the air and more than 12,000 people fill the streets of downtown Minocqua. For over 50 years, Beef-a-Rama™ has been a premier event drawing visitors back year after year to join in on the one-of-a-kind fun you can only find in the Northwoods.  
Roasters begin cooking their signature beef before dawn. Herds of creative festival goers dressed in cow-themed costumes start packing downtown early for the 10K and 5K Rump Roast Run and Walk along Lake Minocqua, live music, & Prime Choice Craft Show featuring more than 70 vendors.
Mooo-ve on down to Torpy Park to grab a roast beef sandwich and watch the Beef Eating Contest and Cow Pie Plop.


Sponsored By: 



The Lakeland Rotary's Annual Rump Roast Run in beautiful, Minocqua WI goes back to our roots so to speak...both the 5k and 10k courses will begin again near downtown Minocqua and finish at...
Roasting Competition
Winners:
Charcoal:
1. JJs Acres
2. Minocqua Sport Rental
3. Minocqua Detail
Wood:
1. Mick Fenn
2. Camp Minocqua Tavern
3. Hazelhurst Pub
Gas:
1. Trig's
2. Packerland Plus
3. Minocqua Popcorn
Best Dressed Stall:
1. Minocqua Detail
2. Minocqua Gun Club
3. Redman Realty
Best Snack:
1. Aquatic Plant Management
2. Redman Realty
3. Minocqua Gun Club
Event Moos & Information:: 2021 Schedule of Events
TBD: Event times are subject to change. Please check beefarama.com and our  Facebook page frequently for updates, or download our Beef-A-Rama™ app FREE on Google Play or iPhone. Updated 9/23/2021 
Printable Version Available Here
Friday, September 24th
10am-Noon  Live Radio Broadcast with WRJO at the Let's Minocqua Visitors Bureau + Chamber of Commerce
8am-Noon Official Beef-A-Rama™ Early Apparel Sales at Let's Minocqua VB+CC
5pm-8pm  Lakeland Rotary Rump Roast Run registration at Train Station Shops Unit #3
6:30 pm- 9 pm Beef-A-Rama™ Friday Night Kick-Off Concert featuring Bernie Thompson sponsored by Minocqua Island Business Association
Saturday, September 25th
7am Lakeland Rotary's Rump Roast Run Registration at Train Station Shops Unit #3
7:30am Street Closure Begins
7am-8pm Shuttle Run Lakeland Union High School, Hribar Corporation/Truck Country, Trig's RV Parking. 
7 am- 8 pm Park & Walk from Marthaler of Minocqua
7 am- 8 pm Handicap Parking located at St. Mathias Church, Parking Lot E, Parking Lot H. 
8:30am Lakeland Rotary's Calf Mile Run for Kids at Bearskin Trailhead (Look for the cow!)
9 am-5 pm Bounce House, Photo Booth, Balloon Animals, Cornhole, Jenga at Redman Realty Group
9am Lakeland Rotary's Rump Roast Run at Bearskin Trail Head behind the Post Office
9am-3pm Live Radio Broadcast by WRJO at Let's Minocqua Stage at Veterans Park
9am-3pm Cow Pie Plop, Beer Garden sponsored by Lakeland Hawks Ice Arena by Earth Goods
9am-5pm Prime Choice Craft Show on the lower level of Torpy Park
9am-5pm 56th annual Official Beef-A-Rama™ apparel sales at Veterans Park & in Downtown Minocqua
Various Times- Family Feud Beef-A-Rama™ Edition at 9:30 am, 11 am, 1:30 pm, 2:30 pm at the south end of Oneida Street. Sponsored by Redman Realty Group
10am Lakeland Rotary's Rump Roast Run Award Ceremony at Let's Minocqua Stage at Veterans Park
10am-9pm Lakeland Rotary Beer Garden: Beef Brisket Sandwiches, and Dunk Tank on Chicago Street
10am-5pm Cross Country Cruisers Beer Garden: Shredded Beef Sandwiches, Bloody Mary Bar, and Music on West Milwaukee Street
10am-9 pm Minocqua Lions Club Beer Garden:  Shaved Prime Rib Beef Sandwiches, Hamburgers, Hot Dogs, Famous Corn Roast, and music at Torpy Park
10 am- 5pm Bounce House and Petting Zoo sponsored by Let's Minocqua
10am-5pm Black Sheep Ink Henna, Face Painting, Glitter Painting by Veterans Park sponsored by Let's Minocqua
10am-12pm Live Music by Scott Kirby at the Rotary Beer Garden on Chicago Street
12am-3pm Live Music by Tuck Pence at Torpy Park sponsored by the Minocqua Lions Club
11am-3pm 56th annual 'Top all 'Round Winner' Roasting Competition downtown Minocqua sponsored by Let's Minocqua
11am Associated Bank Beef Eating Contest at Veterans Park Stage sponsored by Associated Bank
11am Wisconsin Badgers vs. Norte Dame Fighting Irish Football Game at Torpy Park Pavilion 
Noon-3pm  Live Music Hip Pocket at the Rotary Beer Garden on Chicago Street
2:30pm Roasting Competition Awards Ceremony 'Top all 'Round Winner' at Veterans Park Stage sponsored by the Let's Minocqua
3pm Min-Aqua Bats Waterski Show at the Aqua Bowl
3-5pm Live Music by Brad Emmanuel at the Rotary Beer Garden on Chicago Street
5pm Street Open to Traffic
3-7pm Live Music Double Barrel sponsored by the Minocqua Lions Club at Torpy Park
5-9pm Live Music Whitehouse Players at the Rotary Beer Garden on Chicago Street
Event Map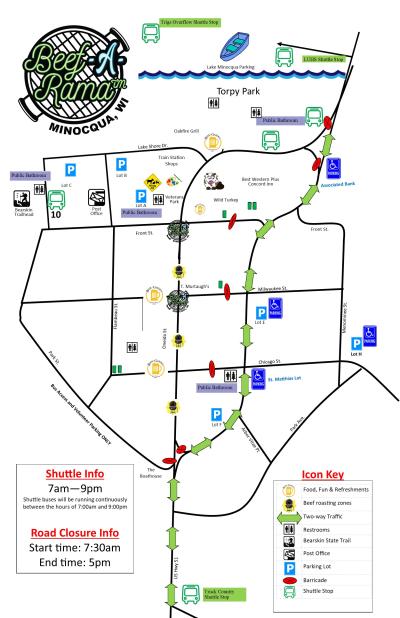 Come one, Come ALL!!! Associated Bank is once again sponsoring the Beef Eating Contest!!! We are opening the Beef Eating Contest to EVERYONE!!! YES! you "hurd" that right…EVERYONE!!!
If you are interested in participating in our Beef Eating Contest and you are 21 years of age or older – YOU ARE ELIGIBLE TO PARTICIPATE!!! It will be a first come first serve up to the first 12 contestants.
The Grand Prize is a $250.00 donation to the non-profit of your choice.
Please submit the following information to us:
Name:
Phone Number:
Email:
Non Profit playing for:
If you have a child 10 years of age and under that would be interested in participating in the children's portion of the beef-eating contest, please send us their information as well.
Children's Beef Eating Contest starts at 11:00 am
Adult Beef Eating Contest starts at 11:30 pm
If you have any questions or would like to participate, please feel free to reach out to Michelle Black at michelle.black@associatedbank.com or Melissa Doering at Melissa.doering@associatedbank.com. We can also be reached at (715) 356-9556.
Meet Alice in Dairyland

Julia Nunes, 73 rd and 74 th Alice in Dairyland
Nunes, of Chippewa Falls, grew up on her family's registered Holstein dairy farm, where feeding calves and clipping dairy cattle for the county fair were just a couple of things that helped shape her childhood. During her teen years, she was heavily involved in her area Junior Holstein group and 4-H club. Nunes went on to study at the University of Minnesota- Twin Cities, where she was involved in the Gopher Dairy Club and Lambda Delta Phi Sorority. In 2017, she shared her knowledge of agriculture and the dairy industry while serving as the Northern Wisconsin State Fair's Fairest of the Fair. Nunes interned at Redhead Creamery, where she sharpened her love of cheese. In May 2019, she graduated with bachelor degrees in Agricultural Communication & Marketing, and Animal Science, with minors in Agricultural & Food Business Management, and Horticulture.
Nunes began serving as the 73rd Alice on July 6, 2020. In her first term as Alice, she wrote more than 100 articles, completed over 232 TV and radio interviews, and engaged with thousands of people on social media across 1,140 posts. Amid significant challenges caused by the COVID-19 pandemic, she worked to continue educating Wisconsinites about agriculture by hosting live events on Facebook and Zoom that featured Wisconsin farms and agricultural products.
Following the cancelation of the 74 th Alice in Dairyland Finals, Nunes agreed to a second term as the 74th Alice, becoming the only Alice in history to serve two terms. Her second term will end on July 15, 2022.
"It has been a pleasure to bring Wisconsin agriculture into homes and communities across the state this past year, even when we couldn't be together in person," said Nunes. "I am honored to serve another term as Alice and continue promoting Wisconsin's diverse $104.8 billion agriculture industry."
#BeefaRama
(Oh and be sure to tag us on Instagram)
Beef-A-Rama™ History
Fish and roast beef shared the spotlight last Saturday when the Minocqua Merchants Association presented their first Fishorama on the opening day of fishing season." Lakeland Times May 14, 1964 - Check out the Chamber scrapbook of Beef-A-Rama™ memories!
Download the Beef-A-Rama app on your Android or iPhone for up-to-date Schedule of events information and to vote for Best Dressed Stall and Best Snack during the 56th Annual "Top All 'Round Winner" Roasting Competition
What is Beef-A-Rama™?
Executive Director Krystal Westfahl shares what makes our one-of-a- kind festival so popular!