Lights, Camera, Splashin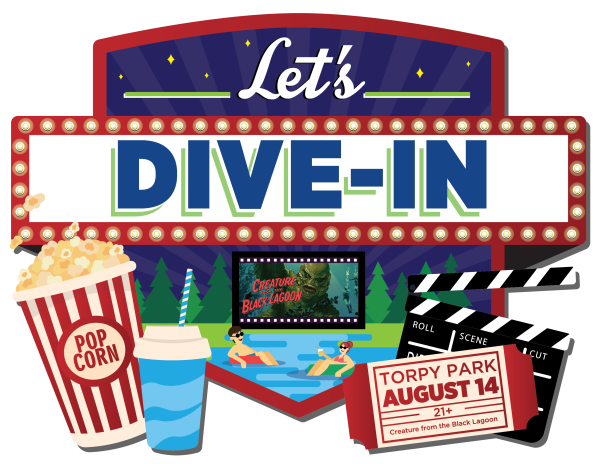 August 14th, 2021
Let's Dive-In to Lake Minocqua for an evening showing of Creature From The Black Lagoon. 
Event Info: 
Beach Party
Pre-show Beach Party begins at 5:30 pm.
Dance & party music from DJ Doc Gary
Commemorative apparel & souvenirs for sale
Food & beverages
Beach & lawn games
Hollywood movie scream contest at 6:30 pm. Sign up at check-in. 
Movie
The movie Begins at 7:30 pm. Watch the movie either floating in the lake or from your boat. Purchase event tickets below for your viewing preference. Print your ticket or show the ticket receipt on your phone at check-in.
Float Tickets: You will receive a commemorative inner tube and neon glow stick upon check-in. You must stay seated in your tube within the buoyed area & wear your glow stick at all times during the showing. No swimming allowed during the movie.
Boat Tickets: Arrive at the marked boat area to check your boat and occupants in. Have your tickets printed or pulled up on your phone to be scanned.  All boats will need to park within the marked buoyed area and won't be allowed to leave until the end of the show.  You must stay on your boat. No swimming. No lily pads. 
Proceeds from the event will go toward purchasing the theatre screen. The intent is to allow not-for-profit groups to use it for their own fundraising events and hold more movie events in the park. 
*Lifeguards and EMTs are available at all times and in case of emergency. 
More About The Movie: 

Remnants of a mysterious animal have come to light in a remote jungle, and a group of scientists intends to determine if the find is an anomaly or evidence of an undiscovered beast. To accomplish their goal, the scientists (Antonio Moreno, Richard Carlson, Richard Denning, Whit Bissell) must brave the most perilous pieces of land South America has to offer. But the terrain is nothing compared to the danger posed by an otherworldly being that endangers their work and their lives.
Sponsor: 
Your sponsorship of this event will go directly to the purchase of a 23' outdoor blowup movie screen and projector. Any partnering non-profit in the community has the availability to utilize all the Chamber supplies to help offset costs for their own events.  The Chamber hopes to raise $10,000 in sponsorship money to pay for the purchase of the outdoor movie theater for the community.We hope to see many outdoor movie opportunities for families in the near future!
$2,000 Platinum Sponsor 
• Premier sponsor of the event 
• Listed on all promotions & throughout  event (e.g. Let's Dive-in brought to you  by 'Your Business') 
• Name/Logo featured prominently on  all print, radio, web & social media ads 
• Complimentary run of site banner ad  (month) on letsminocqua.com & static  banner ad on Let's Dive-in website  page (year) 
• Name/Logo featured prominently on  event T-shirts 
• Your business featured prominently on  the big screen 
• 4 complimentary event T-shirts 
$800 Gold Sponsor 
• Major event sponsor on all promotions  throughout the event 
• Name on all print & radio ads 
• Name/Logo and link on website page • Name/Logo on event T-shirts 
$500 Silver Sponsor 
• Recognized as event sponsor on all  promotions during the show 
• Name on all print advertising 
• Included in radio promotions 
• Name featured prominently on event  T-shirts 
• Name/Logo on website page 
$300 Bronze Sponsor 
• Name/Logo on website page
• Name on all print advertising 
Volunteer Opportunities
These events would not be possible without our amazing volunteers. If you are interested in being a volunteer for this event or any of our other community events,fill out the form below.
Help Out