ATVing & UTVing
ATV riding has become an exciting recreational sport for many in the state of Wisconsin. Our area provides access to many trail systems within a short drive. The Town of Minocqua will be opening up 11.5 miles of ATV routes in the Township for the purpose of accessing neighboring trail systems.
Trail heads are located off of Hwy 70 West. Take Squirrel Lake Road south to Pine Lake Road. You may park along Swaumsauger Heights Road. All ATV Routes in the Town of Minocqua are marked.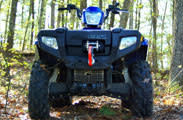 Other trail and route systems in the area are: 
Town of Little Rice, (accessed from the Town of Minocqua routes)
Price County trails and routes, (accessed 15 miles west of Hwy .144 in the Pike Lake, Round Lake Chain)
Iron County trails and routes, (accessed 15 miles north on Hwy 51 to Mercer - parking is available along railroad grade, one block east of Hwy 51)
Trail Map
Visit the Lakeland ATV Club for more trail information.