Minocqua Articles & Accolades
Discover what some well respected writers and publications have to say about the Minocqua Area.
Minocqua Area Chamber of Commerce Wins Trailblazer Award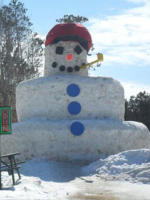 The Minocqua Area Chamber of Commerce has won the Trailblazer Award at the Wisconsin Association of Convention and Visitor Bureau's Fall Tourism Conference! The award was given for creating a cost effective campaign to draw winter tourism to the Minocqua Area in 2015. Utilizing social media and media relations, the campaign resulted in thousands of people stopping to have their picture taken with Snowmy Kromer and subsequently visiting our 24 hour Visitor Center. Along with hundreds of phone calls, Facebook involvement exceeded a 200,000 person reach in the month of January, and a snow melt contest generating 300+ entries. The free advertising value of Snowmy was over $250,000. From Singapore to Nova Scotia and all stops in between, Snowmy went around the WORLD!
The Legend of Snowmy Kromer Continues
The world famous 30 foot tall snowman built by the Minocqua Area Chamber of Commerce draws crowds every year. Check out coverage of Snowmy Kromer.  
Giant Snowman Returns To Minocqua 
Work Begins to Construct Minocqua's 30' Tall Snowman


"Almost surrounded by water, Minocqua qualifies as the quintessential resort-area town - the one most people dream of when they're stuck in a cubicle on a sunny day. Popcorn- and...


"This northern Wisconsin resort town (165 miles northwest of Green Bay) has all the ingredients of a great family vacation - including more than 3,000 lakes in Vilas and Oneida counties....


Summer is prime travel season in Wisconsin. But in a state where winter seems to last most of the year (especially this year), cabin fever is real, and we all need a getaway. Traditionally...


"In Wisconsin, they might as well staple fishing licenses to birth certificates. It seems everybody here was born to fish. Minocqua is a quaint little cabin community, the kind of place...


It's another cool August night in a small town in Wisconsin's Northwoods, and the local ballpark is jammed. Hot dogs, cold drinks and some delicious homemade pies -- the sole reason many...
Minocqua Declared one of the Best Wisconsin Towns by Wonders of Wisconsin
Best Town for a Fishing Getaway

Minocqua
Hayward
Eagle River

Best Snowmobiling Getaway

Eagle River
Hayward
Minocqua

Best Cross Country Skiing Town

Blue Mounds
Cable
Minocqua

Best Town for a Family Weekend

Wisconsin Dells
Green Lake
Minocqua