Generations of families have flocked to the Minocqua area year after year to reunite and enjoy some relaxing time together to bond and reconnect.  So what's the recipe for creating an amazing vacation with mom, dad, grandparents, and kids that leaves you already marking next year's date on the calendar?
The Destination:
Find a place where there are lots of activities that appeal to multiple age groups and interests, which will allow everyone to find their own fun. The Minocqua area has no shortage of options: fishing, biking, hiking, zip-lining, water ski shows, lumberjack shows, mini-golf- you get the picture!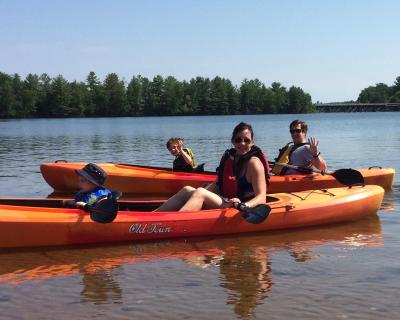 The Lodging:
Choose a resort that allows you to connect with each other yet gives everyone enough space to spread out. From rustic cabins to modern condos, there are a variety of options to fit every size group in the Northwoods. Look for resorts that offer a variety of amenities, lake access for fishing, paddling, and boating; access to trails; a playground, or maybe an arcade.
"It's all about being together with your family in the beautiful natural surrounding that Minocqua offers. Fish jump, eagles soar, the coffee is hot. It's THE favorite week of the year for everyone, hands down. For this family, being in Minocqua is restorative to the soul. And it's the week of great connections for all of us, the elder generation and the very young, playing under the warm sun and sandy beaches of Lake Minocqua!" – Mary Louise Neugent.
The Family:
For more than 15 years, Minocqua has been the destination of the highly anticipated annual Neugent family reunion. Averaging 65 aunts, uncles, cousins, and grandchildren from 11 states, the Neugent family says they treasure their time each summer at Nitschke's Northern Resort. Dubbed "Family Camp", Mary Louise Neugent says Minocqua's variety of activities makes it the perfect place to bring a group.
The Neugent family plans special events throughout the week, including karaoke nights, theme cocktail parties, a "decades" party where they choose a decade and dress accordingly, contests, and game nights.
Mary Louise says their family returns to the Minocqua area each year because of the community's family-friendly appeal and the variety of activities available. Family favorites include the Min-aqua Bat Water Ski Show, Torpy Park, and the Bearskin State Trail.