FOR IMMEDIATE RELEASE
CONTACT: Krystal Westfahl, Executive Director
krystal@minocqua.org
715-356-5266
letsminocqua.com
Minocqua WI
Have you ever been to a drive-in movie?! Well, we've got something new for you! How about a DIVE-In movie! The Let's Minocqua Visitors Bureau + Chamber of Commerce announced today a new event for this summer called Let's Dive-In happening on the banks of Lake Minocqua. 
The Chamber will be showing the classic thriller Creature from the Black Lagoon to participants 21 and older, on Saturday, August 14th at 7:30 pm.  A 23' movie screen will be placed on the banks of Lake Minocqua at Torpy Park facing the lake. All float participants will watch the classic black and white thriller floating on commemorative take-home innertubes lit up with neon glowsticks in the warm August waters. Only 400 floats are available so sign up to grab your spot on the lake! 
Also available for those not interesting in floating, or would like the option to bring participants under 21 years of age, would be to purchase boat tickets for the event. Boats will receive a commemorative flag that will need to be tied to their running lights during the event. Pack your boat and come on down for this one-time showing. 
There is an old-fashioned beach hop planned prior to the movie.  Starting at 5:30 pm all participants, and any last-minute registrants can attend this dance party. Commemorative apparel, food, and beverages will be available for purchase and DJ Doc Gary will be playing all the hits, old and new.  At 6:30 pm there will be a Hollywood Movie Scream Contest. Warm-up your vocal cords because this contest pays cold hard cash! You can sign up for the contest when you arrive at check-in. 
This event is in support of the Let's Minocqua Visitors Bureau + Chamber of Commerce event loan closet.  Any partnering non-profit in the community has the availability to utilize all the Chamber supplies to help offset costs for their own events.  The Chamber hopes to raise $10,000 in sponsorship money to pay for the purchase of the outdoor movie theater for the community.  Sponsorship information is available on the event website.  
Let's Minocqua is looking for community volunteers to help at this event, as well as their whole summer event series! Would you like to assist with this great community event and Dive-In?  Sign up at the Dive-In event website and you can receive a commemorative volunteer event shirt and a free ticket to the movie! 
Pre-registration for the event is now open at letsminocqua.com/dive-in - $35 for floats, $100 for boats.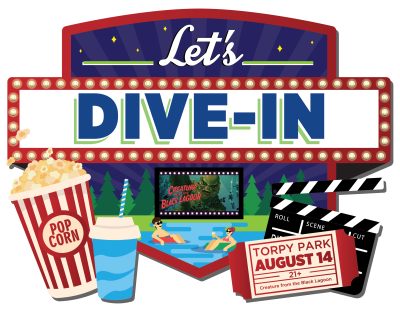 XXX
About Let's Minocqua Visitors Bureau + Chamber of Commerce
Let's Minocqua is the official destination marketing organization for the Minocqua, Arbor Vitae, and Woodruff communities and proudly represents 400+ local businesses. Let's Minocqua exists to advocate for and enhance economic growth for all that visit, work, live, and play in these communities.
Please contact us at letsminocqua.com, our 24-hour Welcome Center at (715) 356-5266, or visit us at 8216 Hwy. 51 S. in Minocqua for personal assistance.
Let's Minocqua Visitors Bureau + Chamber of Commerce is a 501c6 organization.