ATVing and UTVing is an amazing way to take in the beautiful scenery of the Minocqua Area and the Northwoods of Wisconsin. Here are a few things you should know before you start your ride.
Where can I go ATVing and UTVing in the Minocqua Area?
The Lakeland ATV/UTV Club oversees an extensive trail system in and around Minocqua, Woodruff, and Arbor Vitae that connects to many other communities and trail systems. Some popular spots include the Little Rice ATV/UTV Trail, located southwest of Minocqua, which consists of 21 miles of woods trail and 15 miles of road routes all inside the Oneida County Forest. Learn more about Oneida County's trails.
Minocqua, Woodruff, and Arbor Vitae have all opened ATV/UTV routes within the townships to access neighboring trail systems, making the Minocqua area a great hub for your next ATV/UTVing trip. 
Adrenaline junkies of any skill level will want to check out Area 31 UTV Park. Formerly a Yamaha testing facility, this UTV driving adventure park features various one-way trails of all terrains. Guided trail rides are also available.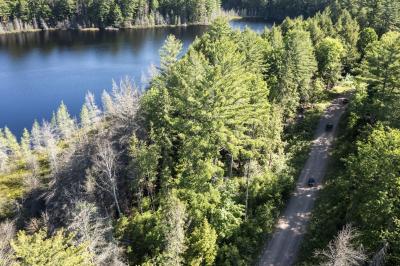 Where can I find ATV/UTV trail maps?
You can find trail maps and more information available at the 24-Hour Let's Minocqua Visitor Center, located at 8216 Hwy. 51 South. Access maps online for the Lakeland ATV Club trails, the Little Rice Trail, and the Enterprise Trail.
What do I need to go ATVing or UTVing?
All ATV and UTV operators born on or after January 1, 1988, who are at least 12 years old (for ATV) or 16 years old (for UTV) must complete a safety certification course to operate on public ATV/UTV trails in Wisconsin. Learn more about DNR safety courses.
Where can I rent ATVs or UTVs in the Minocqua Area?
A&M UTV Rentals in Arbor Vitae offers daily and weekend/holiday rentals and is located less than half a mile from one of the area's major ATVing routes.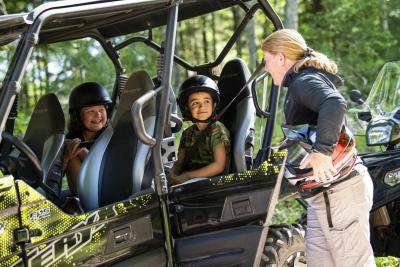 When do ATV/UTV trails open for the season?
ATV and UTV trails in Oneida County and Vilas County typically open mid-May. Check with local ATV clubs or the specific county for more specific information.
When do ATV/UTV trails close for the season?
Vilas County dirt trails, Arbor Vitae trails and routes, and Hazelhurst trails and routes close on October 31st. Oneida County dirt trails close on December 1st but all blacktop roads in Oneida County are open year-round.
Find more information about ATVing and UTVing in Oneida County here.