If you're looking for the perfect spot to hook an adventure of a lifetime, your search is over. The northern Wisconsin communities of Minocqua, Woodruff, and  Arbor Vitae—and the 2,300 bodies of fresh water surrounding them—offer everything from family fun to fill-the frying-pan fishing.
The Minocqua Chain of Lakes, recently named one of the Midwest's top bass fisheries, is a superb spot to wet a line for not only bass, but also walleye, musky, pike, crappies, bluegills and yellow perch.
There are many shore fishing options, including Lake Minocqua's public fishing pier, located just below the Highway 51 bridge as you cross onto the island.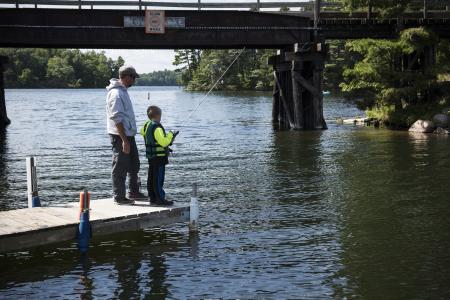 Tackle shops have a giant selection of lures, but fishing enthusiast and Wisconsin Outdoor News editor Dean Bortz says a jig and minnow probably catch more fish than anything else.
It's hard to go wrong casting that combo or fishing a worm, minnow or leech under a bobber along weed edges. Another productive method is to go bobberless and let the bait slowly wiggle its way toward bottom over deeper weeds, reefs and mud flats. For deep timber, suspend the bait one to three feet off bottom with a slip bobber.
Kurt Justice of Kurt's Island Sports recommends the Minocqua Chain for large and small mouth bass, crappies, bluegills and yellow perch. Justice says, "You should use a floating jig such as a mini mite under the smallest bobber you can cast and fish over the cabbage weed tops in 8-12 feet of water for crappies and bluegills."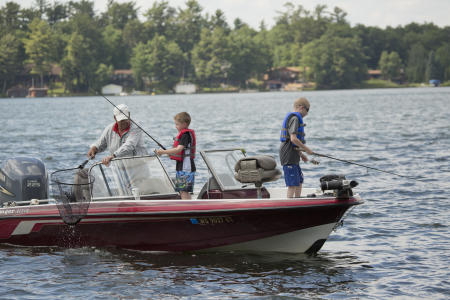 Other notable spots in the area include the public fishing pier on Lake Tomahawk and near the County Road D dam on the Rainbow Flowage. Tip: Don't use too heavy of line or too big of a bobber or hook.
For those chasing the elusive musky, the Minocqua Chain, Squirrel Lake and Big and Little Arbor Vitae lakes are popular musky waters. And if you are lucky enough to snag one, watch out for those needle-like teeth!
If you're serious about hooking up, hiring a guide can really pay off. Their knowledge of the area and conditions can mean the difference between going home empty or going home with enough for a fish fry.
DON'T FORGET THE LICENSE:
A fishing license is required in Wisconsin for anyone 16 or older. You can pick one up at any local bait shop, hardware store, or online at https://gowild.wi.gov/. Fishing regulations, including minimum lengths, bag limits and more vary by lake. For more information go to dnr.wi.gov.