A big reason many choose to stay on our area lakes is that several of them are part of a chain of lakes, giving you more space and easy access to explore additional bodies of water. Like riding along the chain of lakes, visiting the Minocqua area means you get to explore three vibrant communities that are all connected and give you easy access to more activities and adventure. Minocqua, Woodruff, & Arbor Vitae.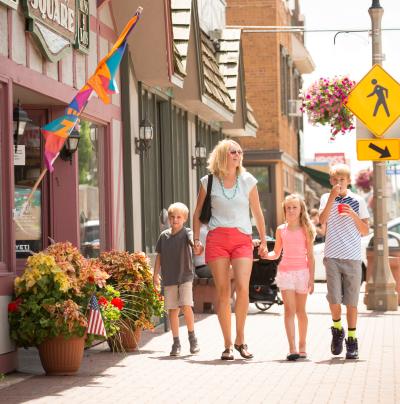 The town of Minocqua's name was derived from the Ojibwe word "Ninocqua," meaning "noon-day rest."  The island is believed to have been the area Native Americans camped during their travels. In 1891 the town consisted of just 29 saloons, two hotels, two general stores, a small market, and approximately 15 homes. Today, Minocqua has a variety of lodging – from rustic cabins to luxurious condominium suites, and campgrounds to bed and breakfasts. It is also an area hub for fine dining, unique shopping, and attractions.
Minocqua has an approximate year-round population of 4,821 and is the largest township in the northern half of the county. But, the population nearly quadruples during the summer months. With approximately 107,520 acres of land and 45 lakes within the township, there is a lot of space to start roaming. 
Woodruff is believed to be named for George Woodruff, owner of the Woodruff-Macguire Lumber Company. He often had freight labeled, "Ship to Woodruff at Muskonegan Creek, NorthWestern Terminal." Thus, his name became associated with the site. Since its establishment in 1888, Woodruff has played a large part in the area's history and continues to be today as a spot for several of the area's popular historical attractions.
Get a taste of the area's rich logging history when watching the Scheer's Lumberjack Shows. Visit the World's Largest Penny, which commemorates a school fundraiser collecting pennies to raise money to build a hospital. Learn even more about the story at the Dr. Kate Newcomb Museum.  Another significant Woodruff historical attraction is the Art Oehmcke State Fish Hatchery, which began in 1901. It continues to be one of the only hatcheries still operating in Wisconsin that is responsible for raising and restocking muskellunge, walleye, and northern pike in lakes throughout the state.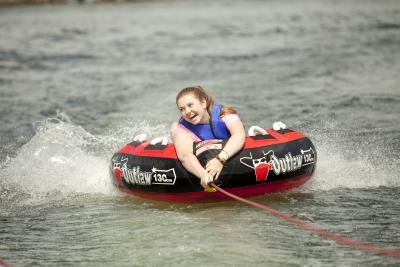 Arbor Vitae is home to a variety of unique dining and lodging spots from camping and lakeside cabins to a corporate retreat on beautiful Trout Lake. Restaurants boast a colorful history dating back to prohibition. 
The town also has a rich logging history dating back to the early 1800s. More than 80% of the land area in and around Arbor Vitae is state-owned and resources are strictly managed. Controlled logging still occurs today. More than 150 years of logging have left many excellent trails for hiking, biking, ATVing, snowmobiling, and exploring in Arbor Vitae.
Arbor Vitae is also home to the Lakeland Airport, also known as Noble F. Lee Memorial Field. You also, don't want to miss the Annual Arbor Vitae Fireman's Picnic!