The Minocqua Area is home to great places for breakfast and brunch, whether you're looking for coffee and a light bite or a hearty meal fit for a lumberjack. The most important meal of the day may also be the best meal you eat all day when you visit these popular local area eateries. 

Great Northern Coffee Traders
If you're starting your day in downtown Minocqua, head to Great Northern Coffee Traders, where you can choose from made-to-order breakfast sandwiches, the quiche of the day, traditional waffles, and breakfast combos. Looking for something lighter? Grab a caffeinated beverage of your choice and enjoy pastries, muffins, and other sweets like homemade scones. Great Northern's lunch menu includes a good selection of sandwiches, including the Woody Guthrie (smoked turkey, smoked provolone, tomato, onion, mixed greens, and cranberry mayo on cranberry walnut bread).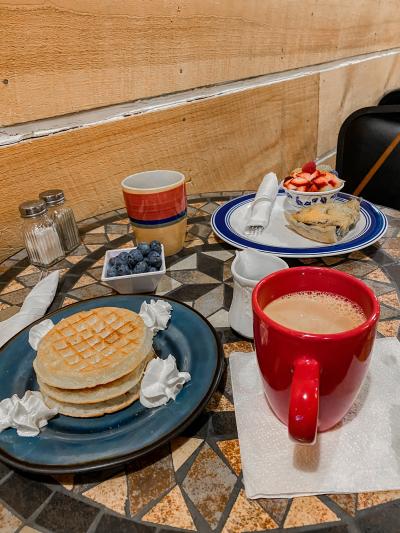 Northern Café 
You'll find breakfast and lunch served all day at this welcoming café just off Highway 51 in Arbor Vitae. The Northern Café is a popular destination offering hearty food all year long. Enjoy scratch biscuits and homemade bread with breakfast specials like Lumberjack Pancakes, Stuffed French Toast, and three-egg omelets, or try one of Northern Café's classic burgers or sandwiches for lunch.

Black Bear Bar & Grill
The rustic cabin atmosphere & hearty meals at the Black Bear Bar & Grill is the perfect way to start a Northwoods weekend. Located on State Highway 70 west of downtown Minocqua, breakfast is served from 9 am to noon on Fridays through Sundays. Diners can enjoy skillets (try the Polish Skillet, made with hash browns, 2 eggs, sliced kielbasa, sauerkraut and onions), classics like biscuits and gravy, and build-your-own omelets.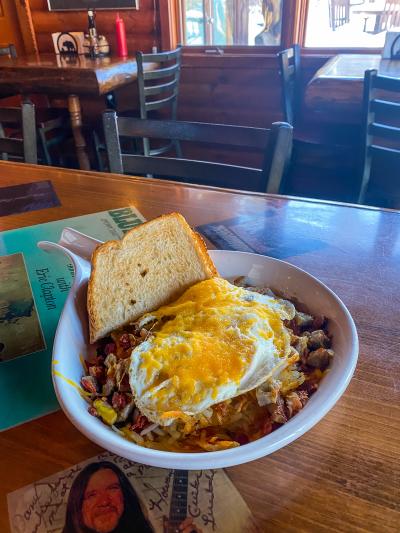 Oakfire Pizzeria & Bar
How does a lakeside weekend brunch sound? Overlooking Lake Minocqua is Oakfire Pizzeria & Bar. Yes, we did say pizzeria for brunch. Oakfire doesn't just serve up delicious Neapolitan-style pizzas for lunch and dinner, they are also open for breakfast on Saturdays and Sundays. Choose from gourmet French toast, frittatas, brunch pizza, and other tasty treats—and don't skip the bottomless bloodies and mimosas.