Summer is kicking off! Summer is often the backdrop of our favorite childhood memories  Some of the best moments as parents are getting to relive our childhood summers by making memories with our own kids. We get 18 summers with our kids before they are grown and off on their own. It will never feel like enough time but let's make the most of every sunny day on the lake or night cuddled around a campfire. 
Here's our list of 18 things to do with your kids to cherish more family memories over their 18 childhood summers. 
Beach day
    Summer is synonymous with the beach and the Minocqua area has many great beaches to spend the day swimming and having a picnic. Slather on the sunscreen and start building some sandcastles at Torpy Park, Brandy park, or Clear lake. 
Rock Falls Riding Stables
Plan a full day full of memories and activities at Rock Falls Riding Stables. They have a 40-minute Trail Ride on horseback, 18 holes of Mini Golf, and Go Karts. The kids are sure to keep retelling the stories about their first hole-in-one and teasing Dad about beating him on the Go Kart track. 
Rent a Pontoon
If you feel like summer always cruises by, slow it down and cruise the lake. Rent a pontoon for the day or take a sunset cruise with Minocqua Pontoon Cruises. 
Bike the Bearskin
Originally a railroad line, the now crushed granite recreation trail boasts amazing woods and water views from the 13 trestle bridges. It is a beautiful trail for the whole family and is a perfect trail for even young kids to bike.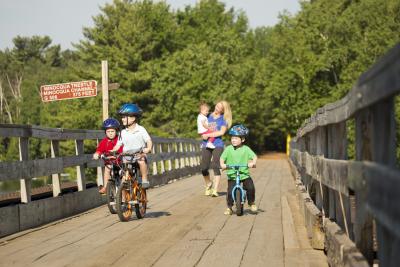 Ice Cream
I scream, you scream, we all scream for more family memories. Make some sweet summer memories cooling off with an ice cream cone. Try Boardwalk Ice Cream, Fudge, & Gelato, and grab extra treats to take home too. 
Scheer's Lumberjack Show
    Timber sports like sawing, chopping, logrolling, boom running, pole climbing, and more, are demonstrated several times each week in the summer at Scheer's Lumberjack Show in Woodruff. Many of the show's performers are champions who have earned world titles against global competitors in the annual Lumberjack World Championships. A lot of laughter rings out during the matinee performances when four random volunteers — all children — are invited to step up to the microphone to give their loudest and longest "YO-HO."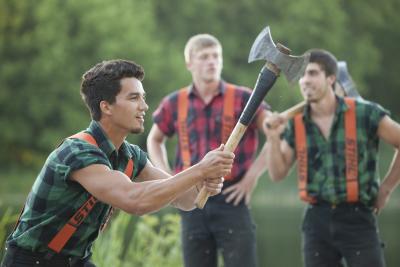 Wildwood Wildlife Park Zoo & Safari
Wildwood Wildlife Park Zoo & Safari is home to over 1,700 animals, making it a must explore place for any age. An extra special feature of the zoo is how many of the animals you get to interact with up close and personal. Feed giraffes, goats, sheep & camels. Have birds land in your hands in the budgie encounter. You may even have a few deer walk right up to you.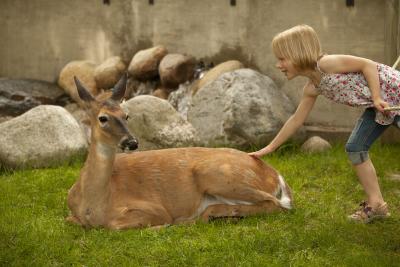 Hiking 
    Childhood is all about exploring. With over a million acres of public forest and over 600 miles of trails, Take your little explorers on a new adventure every year. With hiking trails like the Bearskin State Trail, the Raven Trail, or North Lakeland Discovery Center there are trails to try hiking with even your youngest. 
S'mores
The smell of a campfire immediately makes our mouths start watering for roasted marshmallows. Spend s'more time together around the campfire roasting marshmallows and making s'mores. Up the ante and make some seriously decadent s'mores that no one will forget. 
Northwoods Wildlife Center
    You will see your fair share of wildlife every summer in the Northwoods and the Northwoods Wildlife Center is where you can see some very special wildlife. The center rehabilitates hundreds of injured and sick animals each year, including abandoned fawns, a turtle or loon with an embedded fish hook, or a bird with a broken wing or damaged eye. Animals are released back into the wild but if their injuries make it unlikely they would survive, they become part of the NWC family, such as the case with Hortense the turkey vulture who has resided at NWC for the past 30 years after injuring his wing so severely it had to be amputated.
    11. Min-Aqua Bats
The World's Longest running amateur water ski show takes place every Sunday, Wednesday, and Friday at 7 pm on the shores of Lake Minocqua.  The Min-Aqua Bats have been entertaining families with their impressive water ski stunts at their free shows since the early 1950s.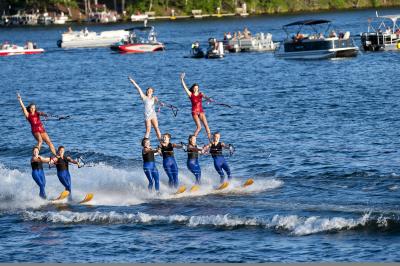 12. World's Largest Penny
    Check off another record-breaking sight to see right in Woodruff. The World's Largest Penny was established to commemorate the work of Dr. Kate and the Million Penny Parade not only made national headlines in 1953 but also raised money to establish the first hospital in the area. Stop at the museum next door and learn more about this truly remarkable woman and her inspirational impact on the area. 
Watch the 4th of July fireworks from Torpy Park
Fireworks are spectacular to watch regardless of your age. They are even more beautiful over gorgeous Lake Minocqua. Start the fun early and catch the 4th of July Parade and a special Min-Aqua Bats performance beforehand. 
Zip Line Tour
For the daredevils in the family, take them zipping 1,000 feet over a wilderness lake. Northwoods Zip Line Adventure Tours provides one of the largest zipline tours in the Midwest. Try a zipline canopy tour, aerial trekking tour, or kids zipline tour. 
Snowshoe Baseball
Trade the peanuts and crackerjacks for slices of homemade pie and enjoy a one-of-a-kind baseball experience. Snowshoe baseball is an iconic Lake Tomahawk event where baseball players strap on wooden snowshoes and the dirt field is filled with wood chips. Watching snowshoe baseball might just become one of your family's favorite summer pastimes. 
Fishing
Cast a line and reel in some quality family time. Catching panfish feels like you're hauling in a record lunker when you're a kid. The fish might shrink back down to size in their memory as they get older but the tales of fishing will remain as big as ever. 
Pick up a Paddle
Trade the cell phone in their hand for a paddle and hit the water for some family time floating in a canoe or kayak. There are many quiet lakes and routes to explore along with several places to rent everything you need to get started. 
The Waters of Minocqua
        A rainy day doesn't need to cancel your family time. Dive into the indoor waterpark or play in the arcade at The Waters of Minocqua. Waterpark passes are included in your stay for hotel guests but daily passes can be purchased by the general public as long as there is space available in the waterpark.