With 2,300 bodies of water, the Minocqua area is aptly nicknamed Nature's Original Waterpark. With the ability to cruise multiple lakes, great restaurants, fishing, and lodging, the Minocqua Chain of Lakes is a popular spot for many.  Here's a closer look at the Minocqua Chain and a few things you should know before you get out on the water.
What is the Minocqua Chain of Lakes?
The Minocqua Chain of Lakes is a massive lake chain in the Minocqua Area that consists of nearly 6,000 acres of water and more than 15 miles of shoreline. The chain forms the headwaters of the Tomahawk River and is part of the Upper Wisconsin River watershed.
What lakes are on the Minocqua Chain?
Kawaguesaga Lake (700 acres)
Lake Minocqua (1,339 acres)
Mid Lake (221 acres)
Tomahawk Lake (3,462 acres)
Little Tomahawk Lake (163 acres)
Mud Lake (41 acres)
Public access to the chain is available via boat landings on Lake Minocqua, Tomahawk Lake, and Kawaguesaga Lake.
What can I do on the Minocqua Chain of Lakes?
The Minocqua Chain is a popular destination in the Minocqua Area since it offers lots of options for outdoor recreation, from pontoon boat cruising to fishing to waterskiing and tubing.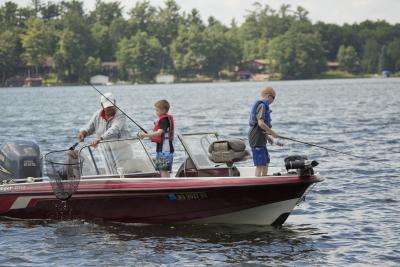 The Minocqua Chain has been named one of the top 25 bass lakes in the Midwest and one of the top 100 spots for bass fishing nationwide, so there's no shortage of hard-fighting smallmouth and largemouth to go after. Anglers will also find musky, pike, walleye, and panfish as they explore the bays, islands, and inlets of the Minocqua Chain. Learn more about fishing in the Minocqua Area here.
Several local businesses (see below) offer rentals of ski boats, pontoon boats, and fishing boats, and some even offer free delivery of your watercraft to most boat landings on the Minocqua Chain.
If you're hungry, you can also park your boat at iconic waterfront restaurants like The Thirsty Whale, Minocqua Yacht Club, and Lakeside Grill and get a table overlooking the lake. There is also docks near Torpy Park on Lake Minocqua where you can park your boat and enjoy the beach or take a stroll through town.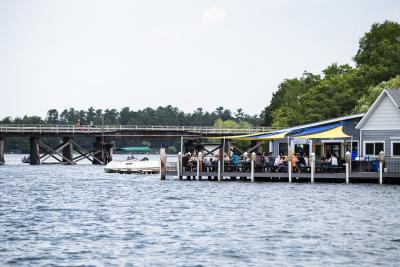 Where can I rent boats in the Minocqua Area?
The Beacons of Minocqua is located on the Minocqua Chain and offers not only accommodations but on-site pontoon and fishing boat rentals for evening, half-day, full-day, and 6-day rentals. Minocqua Pontoon Cruises & Rentals offers daily pontoon rentals as well as guided nature cruises, photo tours, and more. Your Boat Club at BJ's Sportshop offers half-day, full-day, and multi-day rentals of fishing boats, speedboats, and pontoon boats.
Learn more about boat rentals in the Minocqua Area here.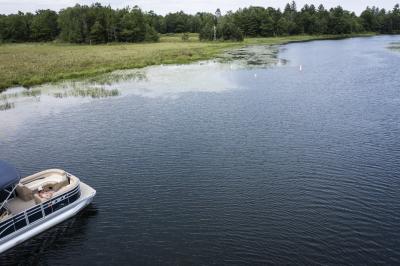 What do I need to know about boating safety on the Minocqua Chain?
We want to protect our lakes and make sure they're safe for everyone, so we ask anyone who's boating on the Minocqua Chain to be kind and courteous to others out on the water, including other boaters, personal watercraft users, and swimmers.
A few guidelines to observe:
Boats must travel SLOW NO WAKE within 100 feet of any swimmer, shoreline, dock, raft, pier, or buoyed restricted area. 
Personal Watercraft must travel SLOW NO WAKE within 100 feet of any vessel, dock, raft, pier, or restricted area & within 200 feet of any shoreline. 
Keep a safe distance with minimal wake from anchored, slow-moving, and non-motorized vessels.
Keep an eye out for skiers, be considerate of others when you're tubing, and only wakesurf in the middle of the lake.
Keep music and conversations at a reasonable level.
Be at least 100 feet from another vessel before going up on plane.