Get out and explore the Northwoods of Wisconsin on two wheels! With miles of scenic trails that wind through forests, over hills, and along lakeshores, there are endless opportunities for cyclists of all skill levels to experience the beauty of this region. If you are planning to bike in Minocqua, Arbor Vitae, and Woodruff—here's what you need to know before hitting the trails.
Where can I rent bikes?
Minocqua is home to several friendly shops where you can rent bicycles or purchase biking gear, including: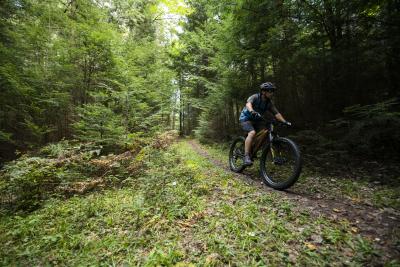 What are some notable bike trails in the area?
Bearskin State Trail: One of the Northwoods' most iconic trails, the Bearskin State Trail stretches for more than 20 miles along a former railroad line between Minocqua and Tomahawk to the south; the trailhead is located in downtown Minocqua.
McNaughton Trail: Found in the Northern Highland-American Legion (NHAL) State Forest, this trail off County Highway 47 southeast of Minocqua is a good spot for beginning mountain bikers, with grass and dirt trails that circle three local lakes.
LAMBO Zip Trail: Located on the grounds of Northwoods Zip Line just south of Minocqua and operated by the Lakeland Area Mountain Biking Organization (or LAMBO), this trail system offers more than 3 miles of riding through the forests of the Northwoods.
Raven Trail: The Raven Trail, in Woodruff, is a popular hiking and mountain biking trail that's known for its stunning views and moderately difficult terrain. Explore several miles of single-track trails as well as a paved trail route. 
Madeline Lake Trail: This trail system off Rudolph Road is home to scenic trail loops that range from just over 3 to more than 5 miles.

Do I need a trail pass to ride?
Trail passes are required for bike trails in the Northern Highland-American Legion State Forest. Day passes can be purchased by self-registering at trailheads or purchase an annual pass online or at the DNR service center. 
Where can I find trail maps?
You can view maps of the bike trails in Minocqua, Arbor Vitae, and Woodruff here.