Every year, fall muscles out summer in a brilliant burst of scarlet, tangerine and gold. It's certainly a show worth watching. And one of the best spots in the Midwest to do so is the Minocqua area. Not only is this prime leaf peeping territory, but there are many ways in which you can enjoy the fall foliage.
Motor along one of the area's three state-certified rustic roads (Rustic Roads 58, 59 and 60), which wind through magnificent stands of hardwood, now afire. Stop the car and jump out whenever you see a sapphire lake winking at you; the water will beautifully reflect the surrounding landscape.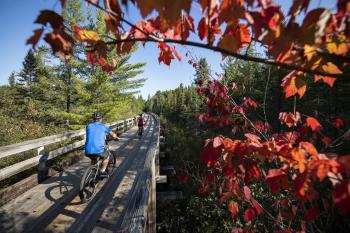 If you're feeling energetic, hike or bike along the local trails. Hundreds of miles of them wind through state forests and lush parkland. The adventurous should head to Copper Peak in Ironwood, where the world's largest ski jump offers visitors a 2,500-square-mile view of three states and Canada. A chair lift whisks you to the top of Copper Peak, an ancient volcanic outcrop, where you'll then zip up an 18-story elevator to the main observation deck. The truly brave can climb another eight stories to the jump's starting gate. (The views are worth it.)
Autumn is also a wonderful time to check out the waterfalls so prevalent in the area. More than two dozen lie within 85 miles of Minocqua, with two of the most impressive being Bond Falls and Potato Falls. Bond Falls, in Michigan's Upper Peninsula, is more than 100 feet wide and sports a 40-foot main drop. Don't worry if there hasn't been much rain lately; the water level is controlled by a dam to ensure a steady, scenic flow. Potato Falls in Gurney, Wis., is spacious, with upper and lower falls, trails and an observation deck.
Happen to be in town around Halloween? Then make your way to the eerie Paulding Light, accessed off of old Highway 45 in Watersmeet, Mich. For nearly half a century, people have marveled over the mysterious red and white lights that hang in the air almost every evening. Are they lights from the ghost of a legendary old railroad switchman crushed to death while doing his job? Come and decide for yourself.
RUSTIC ROADS
Looking for driving directions to see some of the most amazing fall color? Check out these Colorama tours.