Minocqua, Arbor Vitae, and Woodruff are home to one of the largest concentrations of freshwater lakes, so there are always plenty of options for aquatic adventures. If you just want to sit back and relax on the sand, the area is also home to plenty of scenic public beaches—here are a few you shouldn't miss.
Torpy Park
Head to the heart of downtown Minocqua to find this 4-acre waterfront park on the shores of Lake Minocqua. Here, you'll find a large sandy beach (with lifeguards on site) and a changing facility with showers and bathrooms. Torpy Park also has public docks, a pavilion, picnic shelters, tennis courts, a sand volleyball court, and a playground. Many special events and live music take place in the park throughout the summer, so there is always lots to do.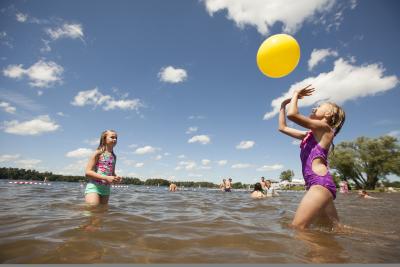 Big Arbor Vitae Park & Beach
Big Arbor Vitae Lake lives up to its name—it covers more than a thousand acres and offers great fishing for musky, panfish, largemouth bass, and walleye. It's also home to a nice beach on the north end of the lake, where you can also find a park with picnic tables, grills, and restrooms.
Clear Lake
The Northern Highland-American Legion State Forest is a popular camping destination, and Clear Lake is one of the area's main attractions. Located east of State Highway 47, the 850-acre lake is renowned for its exceptional clarity and is a great spot for swimming, boating, and fishing. Clear Lake's beach and campground is situated on the southwestern corner of the lake and offers visitors a large sandy beach with a designated swimming area.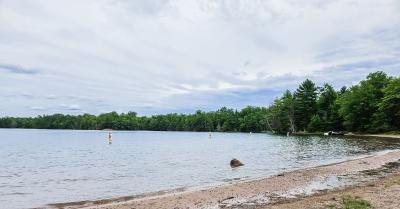 Brandy Lake Beach
Brandy Park in Arbor Vitae (north of State Highway 47 and west of U.S. Highway 51) sits on the southern shore of 113-acre Brandy Lake. In addition to a sandy swimming beach with a pier, the park has two sand volleyball courts, baseball fields, a disc golf course, playground equipment, a changing house and restroom facilities, and a shoreline picnic area with tables and grills.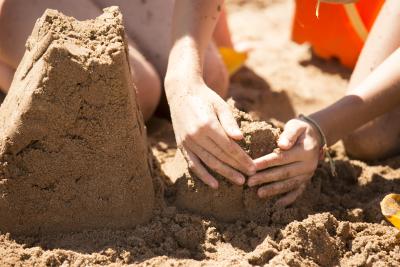 Buffalo Lake
Another popular camping destination in the Northern Highland-American Legion State Forest is Buffalo Lake, located off County Highway J east of Woodruff. With a 50-site campground and a beautiful sandy beach on the eastern edge of the lake, visitors can enjoy a tranquil beach day as well as great panfishing. Note that a Wisconsin State Park System vehicle admission sticker is required for vehicles that park in the state forest. 
Lakeside lodging properties
If you're looking for a private beach in Minocqua, Woodruff, or Arbor Vitae, you're in luck—many of the area's cabins, cottages, resorts, and vacation homes offer pristine beaches and swimming areas. Browse our filterable listings to learn more.