Oneida and Vilas counties are home to one of the highest concentrations of freshwater, so there's an abundance of scenic waters to explore in a kayak or canoe. That's especially true in fall when Mother Nature paints the Northwoods of Wisconsin in a stunning palette of reds, yellows, and oranges.
Here's a look at some great paddling lakes to discover this fall in Minocqua, Woodruff, and Arbor Vitae.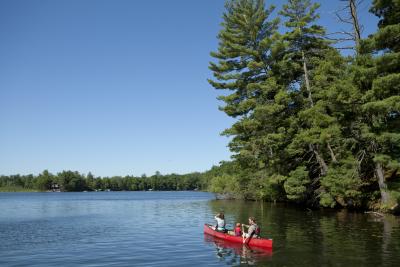 Bittersweet Lakes Natural Area
Part of the Northern Highland-American Legion State Forest, this natural area just east of Arbor Vitae is home to four non-motor lakes that provide a peaceful paddling experience. The lakes range in size from 30 acres (Prong Lake) to 104 acres (Bittersweet Lake) and are connected by short overland portages. The
area is about 3 miles from end to end (including lakes and portages) and can be paddled in a few hours.

Madeline Lake

This 172-acre lake east of Woodruff sits on the border of Oneida and Vilas counties in northern Wisconsin and offers a serene, scenic paddling experience. Canoers and kayakers looking to extend their paddling adventure can reach neighboring Carrol Lake via a channel on the eastern end of Madeline Lake. A public boat landing can be found off Madeline Lake Road on the west side of the lake.


Hemlock Lake

This smaller (38 acres) lake east of Minocqua is a great place for paddlers, as there is a canoe/kayak slide to help you launch your boat at the public boat landing off Woodruff Road.

Where can I rent canoes and kayaks?
Several area businesses offer canoe and kayak rentals (as well as rentals of boats, jet skis, and other watercraft), including:
Many local lodging properties also offer the use of canoes, kayaks, and stand-up paddleboards for guests to use. Browse our lodging listings to find more information.