There is something synonymous with winter and childhood. Maybe it's the joy of a snow day off from school or the steam from hot chocolate thawing our tiny frozen cheeks. Give us a snow pile and we all just turn into big kids. We believe winter is a great time to make memories every kid should have and adults should relive those childhood memories over and over. 
Every kid should sled down a hill with the icy wind whipping against your face, feeling like you are flying, and for a split second think you are going so fast you might not stop at the end of the hill.  Or put on a pair of ice skates and pretend you are skating in the Olympics even though you struggle to stay upright, fall down giggling just to do it all over again. If you are looking to make these memories with your own kids or get in touch with your inner child, check out these fun places to go sledding and ice skating. 
Minocqua Winter Park
If you are looking for a one-stop-shop for winter fun, Minocqua Winter Park is your place.  Check out ice skating on Chip Wulff Memorial Pond or their tubing hill. The tubing hill features a tow rope to reach the top. All tubers must be at least 42" tall in order to tube on the big hill. The tubing hill is Saturdays & Sundays when the weather permits. Call 715-356-3309 for updates on conditions. Tickets are sold on a first-come-first-served basis. We recommend arriving as early as possible to purchase your tickets.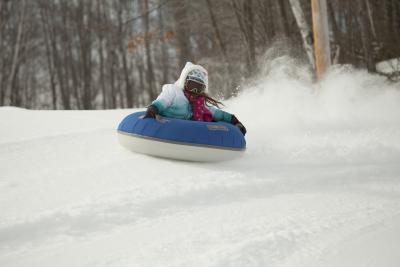 Sledding
Lake Tomahawk Boat Landing
This hill is a popular spot among locals. The hill has a good slope that isn't too difficult to climb up but the descent is fast and fun. Make sure to bring your own sled.  Stop by the Shamrock Pub N Eatery down the street for a hot cup of soup after the fun to warm up.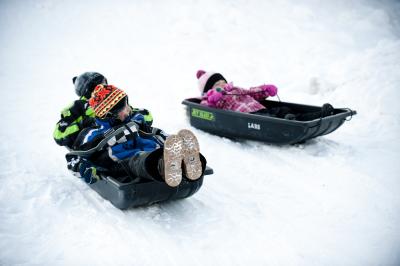 Ice Skating
Torpy Park
This rink is located in downtown Minocqua in the parking lot of Torpy Park. It is lighted at night and has a picturesque view of Lake Minocqua. There are bathrooms located in nearby Veterans park.  
Brandy Park Skate Park
Brandy park is a year-round popular recreational park with disc golf, baseball fields, a basketball court, a swimming beach, and a playground. In the winter, the skate park becomes a lighted ice skating rink. Like the Torpy Park rink, you can often find kids playing a pickup game of hockey.
Wild Skating
When conditions allow our lakes become ice rinks themselves. The perfect time of year is when the lakes have frozen over but before the snow piles up and is easy to sweep off.