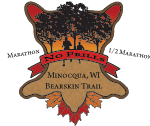 September 9, 2017
The Bearskin Trail is what makes this Marathon unique among races. The trail is a hard-packed crushed granite surface that crosses 9 railroad bridges, and no sidewalks filled with spectators. In fact, you will not see a single sidewalk along the entire route!
What you will see is some of the most beautiful forests and scenery that Wisconsin's Northwoods has to offer; streams, lakes, balsam swamps, hardwood forests, open meadows, old railroad bridges, and a variety of wildlife.
The Minocqua No Frills Marathon is a point-to-point course. The first 6 miles are on paved town roads. The remaining 20 miles follows the entire length of the Bearskin Trail.