Banner Advertising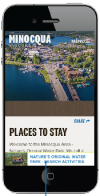 Banner advertising is a great partner benefit opportunity for your business or organization to gain enhanced visibility on the letsminocqua.com website!  The Let's Minocqua Visitors Bureau + Chamber of Commerce has partnered with Destination Travel Network (DTN) and launched an expanded online adverting program which includes new placement options throughout the website. DTN manages the online advertising programs of over 120 destinations throughout the country and can tailor a program specific to your business. 
The advertising platform includes:
Impressions based advertising
Page-specific  Banner Ads
Run-of-Sit Sponsored Header Images
Spotlight ads, with direct links to your website
The DTN team is eager to provide our members with more information about the opportunities offered. There are affordable opportunities for small, medium and large businesses to have a high-profile placement on our region's #1 tourism website at a level that fits your budget and style.
For pricing and program details, please contact  advertising@DTNads.com