Day 2 - Wednesday
Continental Breakfast at hotel or resort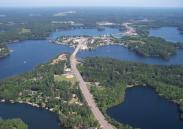 8:30 am Depart for Hillestad Vitamin Factory. Take the free factory tour and see vitamins, minerals, protein tablets, herbs, skin creams, and lotions manufactured using natural source nutrients. Visit the factory outlet store and receive a free sample. 715-358-2113. www.hillestadlabs.com

10:00 am Depart for Wildwood Wildlife Park. Spend the morning enjoying the outdoors and experiencing wildlife up close and personal at this fabulous interactive zoo. 715-356-5588. www.wildwoodwildlifepark.com

11:45am Depart for lunch at The Thirsty Whale located over the shores of Lake Minocqua. This 100 year old historical building will delight all. 715-356-7108. www.thethirstywhaleofminocqua.com
1:30 pm Depart for Lac du Flambeau

1:45 pm Arrive at Waswagoning Indian Bowl Living arts & Culture Center and the George W Brown, Jr. Ojibwe Museum Wonderful museum concentrating on the LDF Ojibwe tribe. 715-588-9325. www.indianbowlproject.org / 715-588-3333. www.ldfmuseum.com

3:45 pm Depart Lac du Flambeau.  Return to hotel to rest and freshen up.

5:00 pm Depart for dinner at Paul Bunyan's Cook Shanty. Get a real flavor for the Northwoods and experience this fabulous ALL-YOU-CAN eat family style restaurant! 715-356-6270. www.paulbunyans.com
6:45 pm Depart for the 7pm Min-Aqua Bats water ski show on the shores of Lake Minocqua. Let these amazing athletes wow you with their amazing tricks.
Day 3 – Thursday
Continental Breakfast at hotel or resort

8:45 am Depart for the Northwoods Wildlife Center. Learn how to better coexist with our wild neighbors at this real wildlife hospital. The center is a not-for-profit organization which cares for injured and orphaned wild animals while educating the public about their plight. 715-356-7400. www.northwoodswildlifecenter.org

10:00 am Depart for Minocqua Museum which features an ongoing display of the Island City's unique history of logging and recreation. Step back in time and imagine what life would have been like in the 1880s when lumberjacks were quite literally carving out the Northwoods. What a wild and rugged place it must have been, and what wild and rugged people. 715-356-7666.

10:30 am—1:00 pm Arrange a group lunch at a fine establishment on the Island of Minocqua, or give tour participants a map and let them be on their own for dining and shopping in our quaint downtown.

1:00 pm Depart downtown Minocqua for Three Lakes

2:00 pm Arrive at Northwoods Petroleum Museum — a pristine display of the private collection of more than 2700 pieces of service station memorabilia. The quality of this museum must be seen to be believed.

2:45 pm Depart for Three Lakes Winery. John McCain began making cranberry wine using "whole-berry" fermentation in 1972. Today, the winery continues to perfect this method and uses only the finest whole fruit and berries that Mother Nature has to offer. Tours include free wine tasting as well as samples of cheese and other gourmet food items. 715-546-3080. www.tlwinery.com

4:00 pm Depart Three Lakes to return to Minocqua. Arrive at hotel or resort to briefly freshen up for dinner.

4:45pm Depart for dinner at Norwood Pines Supper Club. Enjoy a wonderful dinner at a traditional Northwoods supper club with a rich 70-year history. The supper club is rumored to host a friendly ghost named Edgar who hung himself in its upstairs former brothel. 715-356-3666. www.norwoodpines.com

6:45 pm Depart for 7:30 pm show at Tommy O's Playhouse. The lights of Broadway shine brighter than ever in the Northwoods with the best value in live theatrical entertainment. Featuring professional actors from New York and across the country, the Playhouse, nestled among towering pines, has 299 new cushioned theatre seats and open air windows that allow you to sit back and relax with the utmost comfort. 715-356-0003. www.tommyosplayhouse.com
Day 4 – Friday
Continental Breakfast at hotel or resort

Return home with fond memories, a plethora of gorgeous pictures, and a host of new friends!