Paws in The Park- CANCELLED
 Paws in The Park is bringing tons of four-legged fun for the whole family to Torpy Park in Minocqua. 
The event will feature dog agility demonstrations, a pet expo, and Dock Dogs of Wisconsin. 
Times and events subject to change. Please call to confirm. 
Dock Dogs of Wisconsin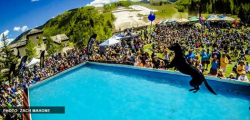 Dock jumping also known as dock diving is a dog sport in which dogs compete in jumping for distance or height from a dock into a body of water. There are dock jumping events in the United States and other countries such as the United Kingdom and Australia. 
The Dock Dog team consists of one handler and their dog.  Handlers need to be at least seven years old.  Any dog, of any breed over 6 months old can try at this sport.
Events Include:
Extreme Vertical: Extreme Vertical is the high jump for dogs.
Dogs jump and grab for an extended bumper hanging 8ft out over the water starting at 4'6" high.  The bumper continues to rise 2   Inches until there is one clear winner.

Division Jump Height
Cadet Up to 5'11"
Top Gun 6'0" to 6'11"
High Flyer 7'0" and above
Big Air:  Big Air is the long jump for dogs.
Each Dog/Handler Team is measured for distance by 2 Dock Dogs®      Certified Judges (Regional/Club events) who "eye-ball" where the dog's hindquarter breaks the water's surface.

1' – 9'11" Novice Division
10' – 14'11" Junior Division
15' – 19"11" Senior Division
20' – 22"11" Master Division
23' – 24'11" Elite Division
25' and up Super Elite Division
Speed Retrieve. Speed retrieve is a drag race for dogs.
A fast-paced timed racing game. Dogs run, jump and swim to retrieve a bumper at the end of the pool.

> 8.000 Express
7.000-7.999 Turbo
6.000 – 6.999 Nitro
< 5.999 Sonic
Share your photos using #pawsinthepark
Register To Be A Vendor
Do you sell pet related items? Contact us for a vendor registration form by calling 715-356-5266 or email macc@minocqua.org
Paws On The Run
Check out the brand new event this year! Start your day with a walk/run with your dog(s) before the Paws in the Park starts on Saturday, June 20, 2020. 
Dock Dogs Schedule
* Subject to change.
Check back for Updates
Thank you to these local sponsors