We're in the homestretch of winter and no matter your adventure or experience level, there is no reason to stay indoors anymore.  With sunnier days and still plenty of snow, now is the perfect time of year to try a new winter activity. Check out these winter activities you didn't know you could do in the Minocqua area.
Snowmobiling
If you aren't an avid snowmobiler or own a sled of your own, you might think an up north snowmobiling adventure is off the table.  Not only does the Minocqua area have some of the best trails, but also everything you need for a full speed sledding experience. 
If you are new to the sport or just a little intimidated by the trails, try a guided ride.  Adventure North Snowmobile Tours offers guided tours for any skill level. This is a great opportunity to learn trail etiquette, riding skills, and the area scenic trails. 
Are you already a comfortable rider but just missing the sled? Many area retailers rent snowmobiles.  Check out our snowmobiling guide for a list of area rentals and the latest trail conditions.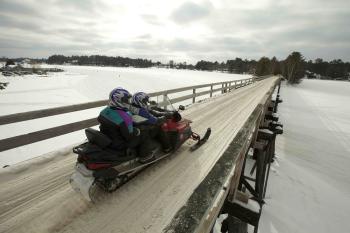 Fat Tire biking
Your next winter escapade is as easy as riding a bike. Literally. Biking might seem like only a summer activity but winter enthusiasts know different. Fat Tire biking is popular year round but in the northwoods, it is especially fun in the winter.  Rent a bike from the Chequamegon Adventure Company and hit trails like the Zipline Trails, Raven Trail, and Shannon Lake. Want company or to learn from experienced riders? Join the LAMBO Riders for group rides throughout the winter. Check their facebook page for dates and trail conditions.
Ziplining
The images of ziplining you probably have in your head are of soaring over a canopy of trees in a tropical destination.  While Northwoods Zip Line is open year round, a winter trek on the canopy tour is the most extraordinary experience flying over snow covered white pines with frozen lake views.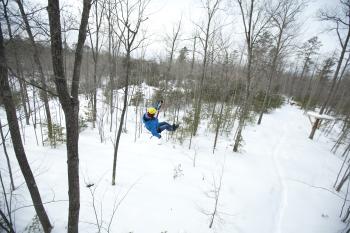 Skijoring
Let your dog live out his own winter adventure. Skijoring is simply dog assisted cross-country skiing. The skier is pulled by the dog attached to them with a harness. Minocqua Winter Park has a designated 6 Km skijoring route. The trail is marked with wooden paw print signs. Purchase a 'tail' pass for your dog and a cross country ski pass for yourself.