It is nearly time for Thanksgiving and if you would be thankful for someone else doing the cooking this year, we've rounded up some top spots to get a full home-cooked holiday spread.  
Order a Thanksgiving Dinner by 2 pm November 23rd for pick up after 11 am the day before Thanksgiving or up until 2 pm on Thanksgiving Day. Call (715) 356-9437 to place orders. 
Home Cooked Holiday Dinners Menu:
Choice of Kretschmar Ham or Butterball Turkey
Mashed Potatoes
Gravy
Homemade Stuffing
Dinner Rolls
Cranberry-Orange Relish
Pumpkin Pie
Side dishes of your choice (Mix and Match)- Green Beans, Baby Carrots, Sweet Potatoes, Buttered Corn
Sizes: 
Serves 12-16 people $129.95
Serves 6-8 people $69.95
Serves 2 people $34.95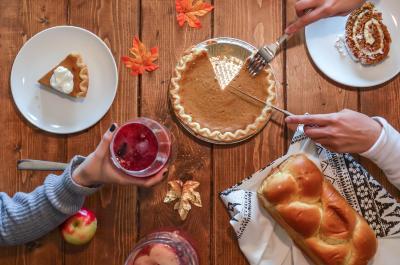 Please place orders by 8:00 p.m. on November 22nd and pick up orders by 2:00 p.m. on November 26th. Place orders online or by store order form. 
Turkey Dinner Menu:
Roasted turkey, mashed potatoes, traditional herb stuffing, green bean casserole, turkey gravy, & cranberry relish.
Sizes:
Large Turkey Dinner (serves 10-12) $99
Small Turkey Dinner (serves 4-6) $69
Turkey Dinner For 2 - $29

Ham Dinner Menu: (serves 8-10) $99
Glazed spiral ham, scalloped potatoes, honey glazed carrots, green bean casserole, cranberry relish.
Holiday Side Dish Packages:
Herb stuffing, mashed potatoes, green bean casserole, sweet potatoes.
Sizes:
Large Holiday Side Dish Package (serves 8-10) $59
Small Holiday Side Dish Package (serves 4-6) $29
A la Carte Entrees:
Whole Roasted Turkey (12 lbs.) $39 Each
Half Spiral Sliced Glazed Ham (8 lbs.) $39 Each
Roasted Turkey Breast $7.99/lb.
Boneless Ham (by the pound) $7.99/lb.
A la Carte Signature Sides:
Traditional Sage Stuffing - $4.99/lb.
Mashed Potatoes 2.99/lb.
Sweet Potatoes $4.99/lb.
Macaroni and Cheese $4.99/lb.
Honey Glazed Carrots $3.99/lb.
Roasted Root Vegetables $6.99/lb.
Green Bean Casserole $6.99/lb.
Tula's Wild Rice with Butternut squash & Cranberry $5.99/lb.
Pumpkin Roasted Apple Soup w/Bacon $6.99/qt.
Turkey Gravy $6.99/qt.
Cranberry Sauce $4.99/pint
A la Carte Bakery:
Signature Dinner Rolls 12 ct. $3.19
Apple Pie $7.99/ea.
Pumpkin Pie $5.99/ea.
Pecan Pie $7.99/ea
White Chocolate Cranberry Cheesecake 6 in. $14.99/ea.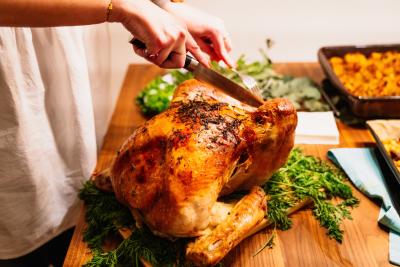 Pre-order by Tuesday, November  24th. Call 715-358-8988 to order. Pick-Up at Arbor Vitae location Wednesday, November 25th from 1-5 pm. A limited amount of meals available. 
Menu Options:
Option #1:
Baked Ham or Carved Turkey with Gravy, Stuffing, Green Bean Casserole, Mashed Potatoes, Roll & Butter with Pumpkin Cake $19.95 per meal
Option #2 (4) Person $105.00
Option #3 (8) Person $195.00
Family Meal Includes:
Carved Turkey, Gravy, Mashed Potatoes, Corn Casserole, Homemade Stuffing, Sweet Potatoes, Green Bean Casserole, Cranberries, Rolls & Butter with Pumpkin Cake