While many have fallen in love with the outdoors of the Northwoods, the heartbeat of the area resides indoors. Great restaurants and retail shops with a small-town feel and genuine hospitality. Many of these popular businesses are owned by women. Meet the amazing female entrepreneurs behind your favorite stores and how they have built thriving businesses.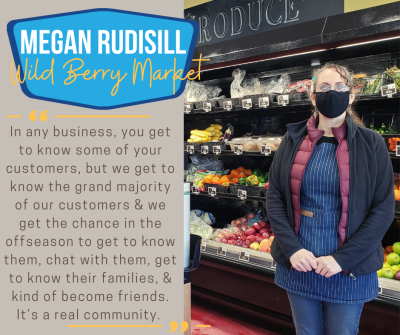 "I had 3 little girls and my friend had a little one at the time and we were just looking for healthy food for our families. There was very little access to natural foods in our area, so we started a buying club." After starting the buying club, a member asked them what it would take to open a store.  They knew it would be a lot of work but the seed was planted and a few years later, they opened Wild Berry Market. Today the market features organic produce, natural & organic grocery items, supplements, and a natural deli featuring fresh sandwiches, salads, soups, and smoothies. Recently, they partnered with the Lakeland Union High School WINGS Program to start a deli delivery service in addition to curbside pickup.
In any business, you get to know some of your customers, but we get to know the grand majority of our customers and we get the chance in the offseason to get to know them, chat with them, get to know their families, and kind of become friends. It's a real community.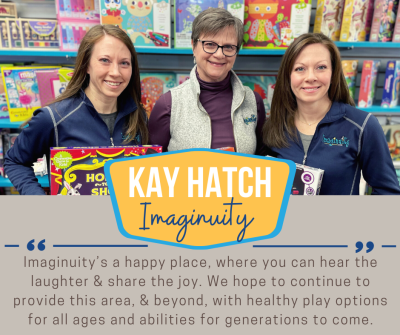 Facing unemployment & limited opportunities, Kay was shopping at the Whoops toy store when she saw a "for sale" sign in the window. She purchased the toy stores in Minocqua and Manitowish waters.
 "I didn't have any retail experience coming into this venture.  My daughter, Jessica, has played an integral role since day one as the play expert many people have come to know at the Minocqua store.  You may think you're seeing double as her twin sister, Jennifer, is also helping out with the business. Imaginuity is a multi-generational family affair."
She changed the name to Imaginuity in 2012 and moved the seasonal Manitowish Waters store to a huge year-round store in downtown Rhinelander, in the fall of 2013. She launched www.ImaginuityPlay.com several years ago but made significant enhancements to this eCommerce site this past year. Customers can now shop online and pick up at either store or have their order shipped.
Packerland Plus: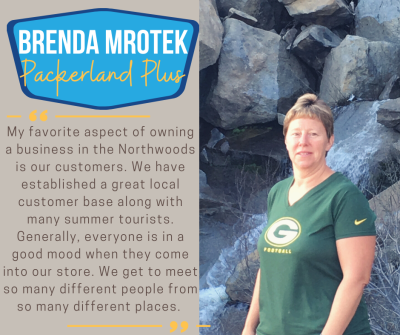 If you are on the hunt for Green Bay Packer apparel for the next football game, your first stop would be at Packerland Plus but the inspiration for the store actually didn't start with football at all. "My father was organizing all of his baseball cards from when he was a child.  They decided to open a sporting goods store selling these cards and it blossomed into all of the sports apparel we carry today." Says Brenda.
Packerland Plus started in Park Falls in 1992 and opened its second location in Minocqua in 1994. For sports lovers and die-hard fans, Packerland Plus is the touchdown, grand slam, or hat trick you are looking for. Today the stores, run by Brenda and her husband Brian, help Northwoods sports fans show their team spirit through their unique lines of apparel, accessories, and décor. Yes, even Bears & Vikings fans.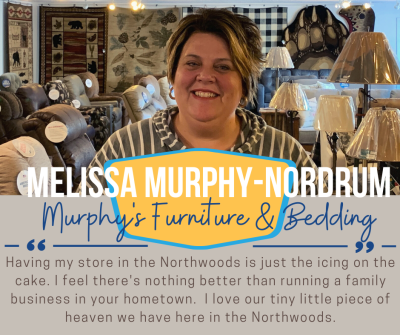 Started by Melissa's parents in 1979, Murphy's Furniture has always had the goal to provide quality merchandise at a fair and competitive price in a family-like atmosphere. That is exactly what you will find. Furniture and Family. She and her brothers grew up in the store. Then her kids grew up in the store and now her grandkids are.  
But their family isn't the only thing that has grown over the years. From a 2,500 square foot showroom to a 20,000 square foot showroom, Murphy's furniture showcases multiple brands such as La-Z-Boy, Ashley Furniture, Lacrosse, Viking, Perdue, Best Home Furnishings, Spring Air, Corsicana, Serta, and many handcrafted and locally made pieces.
When her parents finally decided to retire in 2015, she bought the business from them and loves it just as much as they did.
"I love shopping, so this is perfect for me. I love decorating and picking out styles for everyone's needs and getting the latest styles and trends at affordable prices for everyone."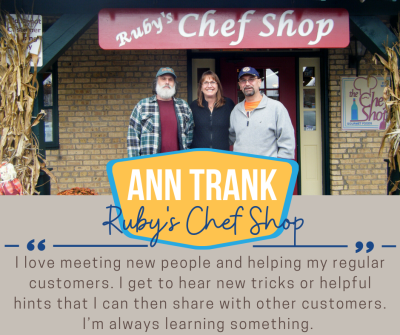 Having spent 20 years managing a grocery store chain in Illinois, Ann Trank had always managed other people's businesses but when her brother and sister-in-law wanted to retire in 2012, she decided it was time to manage her own business. She purchased the business they had run for 24 years. She took over The Chef Shop and renamed it Ruby's Chef Shop in honor of her mother.
Located in downtown Minocqua, Ruby's Chef Shop is a mecca for aspiring and seasoned home chefs. If you are looking to expand your culinary skills or just find a gadget to make weeknight meal prep a little easier, Ruby's Chef Shop should be your first stop.  So many already do.
"I love to hear compliments about the store and when people tell me 'this is their first stop when they come into town.' It turns a job into a passion." Says Ann.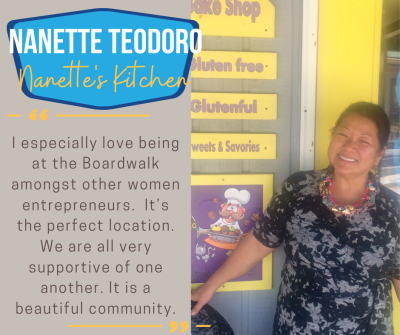 At the age of 16, Nanette started developing her own recipes and working on her baking techniques. When she and one of her daughters were diagnosed with a gluten allergy, she realized that she already knew many foods and treats that were gluten-free.
"Thanks to my mother who used different flours besides wheat, barley, and rye, I already had a good handle on what worked, so it was an easy transition when we were diagnosed with gluten allergy." Says Nanette.
With extensive experience and a recipe book full of delectable treats, her daughters began encouraging her to share her passion. In 2017, she opened Nanette's Kitchen, a gluten-free and gluten-full bakery. Nanette has developed her own combination of naturally gluten-free flours and incorporated them into her cookies, cakes, breads, and other baked goods, satisfying those who are allergic, sensitive, or intolerant to gluten.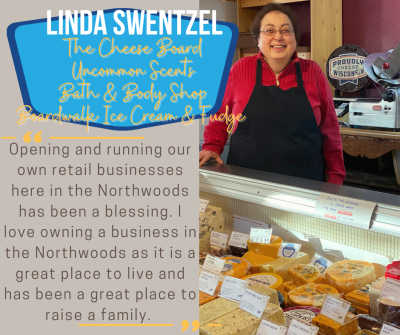 If you are looking for an impressive gift, a sweet treat to top off your day, or everything to make a Pinterest-worthy charcuterie board, you will have to visit one of Linda Swentzel's shops. Linda opened The Cheese Board with her late husband Mitch in 1977, when The Boardwalk Shoppes were first built. The Cheese Board carries more than 100 varieties of cheeses as well as meats, mustards, gourmet sauces and dressings, maple syrups, wild rice, jams and jellies, and gourmet chocolates. 
After the longstanding success of The Cheese Board, she opened a second shop in The Boardwalk Shoppes called Uncommon Scents Bath & Body in 2001. The shop features a large selection of soaps, lotions, and bath products including The Naked Bee and Thymes.
She expanded again, opening Boardwalk Ice Cream and Fudge in 2009, which is the cherry on top of Linda's shops. Boardwalk Ice Cream and Fudge serves Chocolate Shoppe Ice Cream, delicious gelato and sorbettos, and more than 20 varieties of fudge. The fudge is all kettle-made in-house by Linda who enjoys coming up with new flavors.
Stop in-store or order your favorites online. The shop ship products and gift boxes year-round through their websites www.thecheeseboard.com and www.uncommonscentsminocqua.com.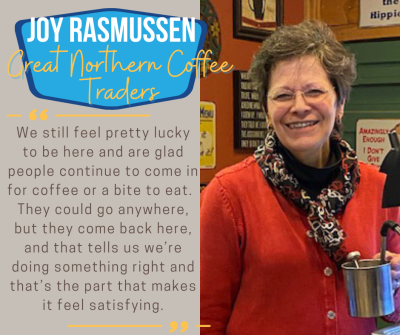 Knowing they would never fully retire, Joy and her husband Greg set out to become "working retirees". Greg loved the memories of growing up with small breakfast places where the owners cooked your food, knew your name and what you usually ordered, and were genuinely glad to see you. In 2011, they opened a coffee house and small café with that same relaxed and friendly feel. Great Northern Coffee Traders has become a frequent stop for a rich latte and breakfast sandwich or casual lunch with friends. 
Joy and Greg have loved owning a business in the Northwoods and the opportunity to live and work in a place people dream of vacationing.
"People make a choice to live or vacation here so I'd like to think they're as excited about it as we are – they want to be here. I think the Northwoods always represented a different kind of lifestyle, a place to get away from congested urban living or the stress of day-to-day jobs.  People want to escape and get away and relax for a while," says Joy. The atmosphere of Great Northern Coffee Traders is an extension of that same Northwoods feeling and has made people fans of the café in the same way.