Discover Wisconsin Names Minocqua a 2020 Choice Destination
Madison, WISCONSIN – (September 4, 2020) – Discover Wisconsin, the state's leading media brand and tourism TV show, will be shining the spotlight on Minocqua in an upcoming episode. The episode premieres Saturday, September 12 at 6:30 p.m. on WAOW TV 9. Following the premiere, the episode will be available for online streaming at discoverwisconsin.com, Roku, Apple TV, SmartTV, Google Chromecast, and Amazon Fire.
Watch the episode early when it premieres on YouTube on Wednesday, September 9 at 6 p.m. and on Facebook on Wednesday, September 9 at 6 p.m. To find out more and to watch, visit facebook.com/discoverwisconsin and youtube.com/user/DiscoverWI.
"We couldn't be more excited to work with Discover Wisconsin along with our partners from Minocqua Winter Park and The Waters of Minocqua.  Fall and Winter are perfect times to explore our area at a different pace and we are so happy that we have this opportunity to show you all there is to love about this part of the Northwoods!" said executive director Krystal Westfahl from the Let's Minocqua Visitors Bureau + Chamber of Commerce.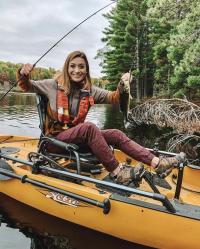 The episode kicks off with a look at the beautiful fall colors of Minocqua. Photographer Shelly Huske is interviewed about the best places to see the changing leaves. As a farewell to summer, co-host Eric Paulsen puts on a cow costume and heads to Beef-A-Rama™, Minocqua's celebration of all things beef, held downtown. Paulsen interviews some of the event-goers and joins in on the fun by participating in the beef-eating contest.
The Discover Wisconsin crew learns why Minocqua's dense natural areas are ideal for grouse hunting. The area is also surrounded by countless lakes, rivers, and streams, making Minocqua a fishing paradise. Co-host Mariah Haberman hops on a kayak and tries her hand at fishing. The Waters of Minocqua resort is also featured in the segment.
For the second half of the episode, Paulsen trades his cow custom for a snowsuit. Paulsen interviews Chad Bierbrauer of Adventure North Snowmobile Tours and Rentals about Minocqua's extensive network of over 1,600 miles of snowmobile trails. Snowmy Kromer, a Minocqua tradition, is also featured.
To close out the episode, the Discover Wisconsin crew heads to Winter Park, where guests can find the perfect winter activities for the whole family. Haberman gives Skijoring - a snow sport that combines cross-country skiing with dogs - a try.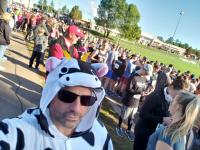 "The shoots in Minocqua were a blast," said co-host Eric Paulsen. "So many people think of it as a summer destination, but fall is amazing - especially with the fall colors, crisp, mild air, and of course the meaty awesomeness that IS Beef-A-Rama™, which I want to hit up again next year. But it's not just about events, Minocqua has plenty to enjoy any time. The lakes and the vast expanse of trails let you enjoy the serenity and fun of the North Woods and it's quite easy to socially distance up there. Heck, it was practically made for that! Our winter shoot was a blast too, with the snowmobiling right in town, across the lake, on bridges, and through forests. It's such a great getaway when the leaves change and when the snow flies."
Minocqua is also featured in episode 33 of Discover Wisconsin's official podcast, The Cabin. The episode premiered Tuesday, September 8 and will be available on Apple Podcasts, Spotify and various other podcast streaming apps. Listen and subscribe to The Cabin here: https://the-cabin.simplecast.com/.
Discover Wisconsin's "Minocqua'' episode will reach the show's broadcast network of 600,000 viewers across the upper Great Lakes region, including Wisconsin, Minnesota, Iowa, Northern Illinois, and Upper Michigan. The episode was produced by Jennifer Ingish. To learn more, visit discoverwisconsin.com.
About Discover Wisconsin
As the state's leading media brand, Discover Wisconsin can be streamed worldwide on Roku, AppleTV, SmartTV, Google Chromecast, Amazon Fire, YouTube and discoverwisconsin.com. The show can be seen statewide on Fox Sports North (FSN) Saturday mornings at 10 a.m. For more on this and other episodes or the broadcast schedule in other areas please visit www.discoverwisconsin.com. Connect with Discover Wisconsin on Facebook, Instagram, Twitter and YouTube and subscribe to The Cabin Podcast on Apple Podcasts, Spotify or wherever you listen to your favorite podcasts.
#    #    #