Employment Opportunities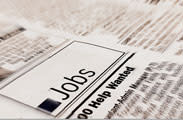 Employment Opportunities offered by Chamber Partners
Please contact business direct for details. 
9/10/19
Dean Distributing
Dean Distributing, Inc. is currently looking for a full-time, experienced Relief Sales Representative to work at its Arbor Vitae Location. This full-time position works Monday through Friday. The ideal candidate must have a good driving record, experience in sales, and experience in the beverage wholesale industry.
Tasks and Duties will include:
·       Generate sales related business with DDI account base.
·       Pre-sell product into accounts through inventory and order process.
·       Maintain/Increase sales and revenue goals through prescribed special events and marketing programs.
·       Maintain product freshness dates in the account.
·       Manage customer inventory to avoid out of stocks.
·       Merchandise product at accounts by properly filling shelves, working displays, organizing the backroom and back stock, and ensuring that product is rotated to maintain fresh product dates in the account.
·       Collect payments and manage A/R status of accounts.
·       Provide effective communication between Dean Distributing, Inc. and its external customers.
·       Help and support respective team members for the purpose of developing plans and skills.
To successfully secure this opportunity applicants must:
·       Must have a good driving record.
·       Active listening and communications skills required.
·       3 years of sales experience is preferred.
·       3 years of beverage experience is preferred.
Salary:
·       The pay for this position consists of salary and pay for performance incentives.
If you have the essential requirements and would like to apply for this position please respond to this posting by sending your resume and a statement about why you are particularly qualified for this position.
Applicants may also apply online at:
http://www.abwholesaler.com/group04/deandistributing/TalkToMe/Careers
Dean Distributing, Inc. (DDI) has been established since 1953 and has built a great reputation in the counties it services. Located in Green Bay, WI, with a branch in Arbor Vitae, WI, DDI strives to be the leading beverage distributor that provides the best quality, service, and value to its customers.
Job Type: Full-time
Salary: $42,600.00 /year
Experience:
·       Beverage Industry: 1 year (Preferred)
·       Sales: 3 years (Preferred)
·       Customer Service: 3 years (Preferred)
Apply in person or send Resume to 1678 Justin Street Arbor Vitae Wi, 54568
Denis Gillis
Branch Manager | Dean Distributing, Inc.
1678 Justin Street | Arbor Vitae, WI 54568
or: 715-362-7330 x.406 | m: 715-437-0405
************************************************************************
8/29/19
Hillestad Pharmaceuticals
Dietary Supplement Manufacturer
Hillestad Pharmaceuticals is looking for workers in our manufacturing department. Will be trained in operations such as weighing and mixing ingredients, compressing and coating tablets. Must be able to lift up to 75 lbs.  Full-time position, multiple benefits.
Call Sergio at 715-358-2113 or apply in person at Hillestad Pharmaceuticals, 178 US. Hwy. 51 N, Woodruff WI 54568.
*****************************************************************************************************************
8/29/19
Donor Technician/Phlebotomist
Are you interested in a career where you could help save lives every day?
The Community Blood Center is looking for Full-time Donor Technicians who are thoughtful, portray accuracy within their daily work, and are looking for advancement opportunities. The right candidate will be friendly, detail-oriented, exhibit a cooperative team attitude and provide outstanding customer service.
Donor Technicians are responsible for ensuring donor suitability and performing whole blood or automated collection procedures per regulatory and Standard Operating Procedures. On-the-job phlebotomy training is provided and opportunities for growth are available.
Donor Technician positions offer a competitive starting wage, with paid on-site training and no prior experience necessary.
The Community Blood Center provides additional starting pay based on advance degrees and/or previous relevant work experience, along with additional opportunities for candidates who possess a Commercial Driver's License (CDL).
CBC offers an excellent benefit program for full-time employees - including sick time, paid time off, excellent medical benefits, cross-training, on the job training, advancement opportunities AND much more!
Primary Job Responsibilities:
Perform phlebotomy and whole blood collection.
Greet donors with a friendly, personable, professional attitude.
Take and record donor pulse, blood pressure, and temperature measures, and perform medical history review.
Demonstrate teamwork, flexibility and dependability.
Comply with federal, state, local and company-specific regulations related to quality- of -product, employee and donor safety, and to the proper performance of day-to-day activities.
Demonstrate professionalism at all times.
Job Requirements:
High School education or equivalency required.
Experience in a hospital, laboratory or other regulated environment is a plus.
SKILLS:
Excellent organizational, oral and written communication skills.
Strong interpersonal skills in a team environment.
Excellent customer service skills.
Observation and performance of repetitive tasks.
Accurate documentation with emphasis on detail.
Ability to regularly push, pull and lift supplies and equipment.
Join our team by applying today! 
https://secure.entertimeonline.com/ta/K1100.jobs?ApplyToJob=201497931
The Community Blood Center
1575 Highway 51
Woodruff, WI 54568
www.communityblood.org
www.facebook.com/cbloodcenter
Community Blood Center, Inc. is an Equal Opportunity Employer M/F/Disability/Veteran
*