Employment Opportunities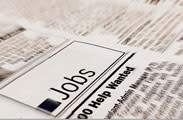 Employment Opportunities offered by Chamber Members. 
Please contact business direct for details. 
1/03/2019
Our Wisconsin Magazine
Associate Editor
Come join the full-time staff of Our Wisconsin magazine. Our 100,000 paid subscribers make it the most popular publication ever devoted to this state. We're looking for an experienced editor with strong rewrite skills to help our readers tell their stories.
The successful candidate will be able match the tone and style of this magazine.  Candidates invited to interview will be given a rewrite test.
Basic Requirements: 5-10 years professional publishing experience.  Have more experience?  Let's talk!  4-year degree in journalism or English.
Compensation Package:  This full-time position includes competitive pay and structured bonuses, plus paid vacation, personal time and retirement plan.  Compensation commensurate with ability and experience.
For a complete description of position, click here https://www.ourwisconsinmag.com/employment
Email resume, three examples of published writing and cover letter briefly detailing qualifications to: editors@OurWisconsinMag.com.  Note "Associate Editor" in subject line.  By postal mail: Associate Editor, Our Wisconsin, 5301 Townline Rd, Suite 4, Manitowish Waters, WI 54545.  No phone calls or walk-ins, please.
********************************************************************************************************************
01/02/2019
Art Start, Rhinelander
ArtStart Inc., a nonprofit arts and cultural center located in Rhinelander, Wisconsin, is seeking a part-time Development Director to be responsible for planning, organizing, and directing ArtStart's fundraising activity including, major gifts program, direct mail campaigns, planned giving, and capital funds drives.  This is a 30-hour per week position. 
 
The Director will work closely with the Governance Committee, staff and the Board of Directors in all development and fund raising endeavors.             
 
QUALIFICATIONS:  At a minimum, applicants must possess the following attributes:
A bachelor's degree or related experience
At least 5 years experience in professional fundraising, particularly major gift acquisition, grant writing and public relations.
Working knowledge of basic financial statements and cash flow documents
Strong writing and computer skills
An engaging appearance and professional conduct
Strong interpersonal and listening skills
Consistent "follow through" on tasks and goals.
Embrace the mission of ArtStart
ACTUAL JOB RESPONSIBILITIES
Develop and implement an overall fundraising strategic plan based on the budget provided by the Board of Directors
Cultivate and maintain relationships with donors
Initiate major donor visits and fundraising calls
Monitor and maintain the Planned Giving Program
Identify and apply for available grants and administer those awarded
Work with the Program and Operations Director to develop and initiate creative direct mail strategies and content
Work with Program and Operations Director to develop and support major fundraising projects and events
Work with the Program and Operations Director to acquire sponsorships for programs and events
Work with Governance Committee to prepare strategic plans, annual budgets, financial statements reports and worksheets, as required
Serve on the Governance Committee as Staff Liaison
Establish, organize, update and access ArtStart contributor data
Ensure monetary contributions are recorded and deposited in a timely manner
Ensure that proper thank-you documents are prepared, signed and mailed in a timely manner
Monitor cash flow to ensure adequate short-term and long-term funds availability
Initiate and maintain relationships with local businesses, community organizations, foundations and non-profits
Perform other related duties as requested.
SALARY/BENEFITS:
 
This is a 30-hour per week position.  Starting salary is $30,000 per year.  Benefits include generous paid time off (PTO).  A Simple IRA with company match will be offered after one year's employment.
 
APPLICATION:
 
E-mail introductory letter and resume to:  Sue Bessert, President
                                                         bbessert@centurytel.net
 
All applications must be received by January 18, 2019
*******************************************************************************************************************
North Lakeland Discovery Center Marketing and Membership Coordinator
The North Lakeland Discovery Center is seeking a permanent, full-time Membership & Marketing Coordinator. This position is responsible for communicating with members and developing a comprehensive marketing plan, press releases and annual report.  This position also includes developing media relations and assisting with the planning and executing of fundraising and outreach events.
Professionalism, excellent communication skills and strong organizational skills required. A Bachelor's degree in sales and marketing, public relations or related field, and at least 2 years fundraising, non-profit, event coordination, and/or marketing experience preferred.  The work schedule includes some flexibility and will include some required evening and weekend work.
Please send resume and cover letter by January 4th, 2019 to contact@discoverycenter.net or mail to PO Box 237, Manitowish Waters, WI 54545.
****************************************************************************************************************************
Little Creek Coffee Company, Arbor Vitae
Little Creek Coffee Company now has immediate openings for baristas and kitchen help.  Call, stop in or download an application online at littlcreekcoffeecompany.com.  Applications can be dropped off or emailed to littlecreekcoffee@gmail.com.  
*****************************************************