The Minocqua Area
What Makes The Minocqua Area Special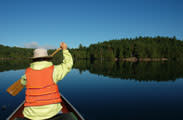 The Minocqua Area is the hub of the Northwoods. The Minocqua area features supper clubs, shopping, cafes, ice-cream stands, outfitters, real lumber jack shows, the oldest amateur ski show in the United States, museums, gaming and we could keep going on.
But all of the activities take a back stage to thousands of acres of pine and hardwood forests covering the glacier landscape, resulting in isolated natural lakes so quiet that the plunk of a lure echoes from shore to shore. 
Almost surrounded by water, Minocqua is the ideal resort-area town.  Popcorn and fudge-scented air hums with the buzz of speedboats and the putter of pontoons.  Giggles and shrieks ripple from Torpy Beach, a popular park and playground along the main street.  And families meander in and out of shops and gather around lakeside tables.  Many return year after year.